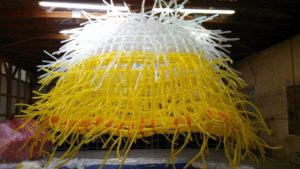 Jason Hackenwerth's AVIARY, a massive 35' tall latex balloon sculpture was commissioned for a one-night exhibition by Works & Process, a sculptural centerpiece for its 30th Anniversary Gala at the Solomon R. Guggenheim Museum on April 2, 2014. Guests looked up from their tables into a giant birdcage of balloon tendrils, or viewed the work from the museum's spiraling ramps. Once the gowns and tuxedos departed, AVIARY was disassembled and carefully bagged into three parts: a 97' long red ribbon of balloons, a 27' diameter ring of orange balloons and a 22' diameter yellow and white balloon igloo. With the unusual permission of the artist, this gift from Works & Process general manager Duke Dang, arrived upstate in the wee hours of April 3 to begin its new life as AVIARY (reimagined); reconfigured balloon sculptures on display in locations throughout Catskill, April 12 – May 3, with Saturday Storytime under the big balloons and a Closing Night Party at Bridge Street Theatre.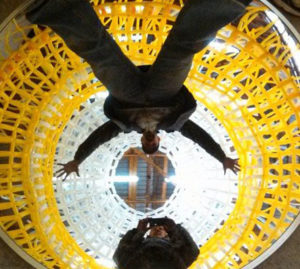 EVENTS:
SATURDAYS AT 1 PM, Stories Under the Big Balloons at Bridge Street Theatre, weekly readings of children's classics: April 19 – The Story of Babar; April 26 – The Pigeon Man; May 3 – The Red Balloon . Popcorn and punch provided. 44 West Bridge Street, Catskill. Bridge Street Theatre will officially open in 2015 and provide live productions year-round. Complete details at bridgest.org or contact@bridgest.org.
SATURDAY, MAY 3, 7 PM Closing Night Party, one-time-only chance to see the big balloons at BST under theater lights with drinks & entertainment in the Bridge Street Theatre's Speakeasy, 44 West Bridge Street, Catskill. For more information go to bridgest.org.