June 17 @ 7:30
Tickets are $27 online (no service fee), $25 for BST Season Subscribers and $30 at the door.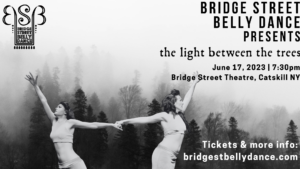 The Light Between the Trees
Featuring:
The Lunachix
Francesca Avani
Inga Petermann
Cult of Yes
Yvonne Michelle
The Gerudo Vagrants
Les Soeurs Dryades
The Bridge Street Project
Join us at Bridge Street Belly Dance for our sixth year of celebrating the human experience through movement and fusion belly dance! This year, inspired by and in collaboration with poet Alysia Quinn, our showcase will feature artists who are going to take you on a journey of darkness, unearthing, rising, & light.
The Bridge Street Project, featuring new artists and dancers, are coming together for a third residency at Bridge Street Theatre in Catskill, New York for a multi day collaborative project that will be a part of the live show.