NOTE: The 60 minute performance will be live streamed on YouTube at 7:30pm Friday, October 9. The video will be available until 11:59pm on Sunday October 11.  Tickets must be purchased by 6:30pm on Friday, October 9. A personal link to the live stream will be sent out by email at that time. Tickets are only $10, but buy more than one if you can — half the ticket receipts will go to the performer, the other half to support BST in this time of need.
Program information is below or, for a PDF version of the program you can print,  CLICK HERE
Written and Performed by Aizzah Fatima
Directed by Erica Gould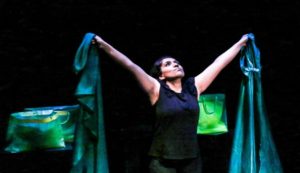 Sex, religion, and politics collide as six Pakistani-American Muslim females air their dirty lingerie.
After sold out shows in NYC, London, Toronto, Pakistan, Turkmenistan, and at the Edinburgh Fringe Festival DIRTY PAKI LINGERIE, written and performed by Aizzah Fatima, directed by Erica Gould, and sold-out shows here at Bridge Street Theatre in 2015, DIRTY PAKI LINGERIE comes back to Bridge Street for a virtual performance, October 9-11.
Dirty Paki Lingerie premiered in NYC in 2011 at The Midtown International Theater Festival and has toured the world since then. In Dirty Paki Lingerie Aizzah Fatima plays six Pakistani-American Muslim women ranging in age from a six to sixty-five and a dozen other minor characters. Cross-cultural sparks fly and preconceptions about Muslim women, sex, and politics are hilariously shattered in the show that The Wall Street Journal says "breaks down stereotypes of Muslim women in America" and that reviewers call a "must-see" production. Dirty Paki Lingerie transcends boundaries of culture, religion, and gender, moving and entertaining audiences with its unique and universal appeal. A rich, sexy, and infectiously entertaining mosaic of the sublime, the comic, the poetic, and the political.
Written and Performed by Aizzah Fatima
Directed by Erica Gould
Dramaturgy by Cobina Gillett
Stage Manager – Eve Kelly
Video by Ryan Osswald, John Sowle & Steven Patterson
CHARACTERS
THE POET, a young dreamer
AMEERA, a 20-year-old visitor to America
SELMA, a Pakistani-American feminist
HIBA, a teacher, wife, and mother in her mid-50s
ZAHRA, a 6-year-old girl
ASMA, a mother in her 60s
RAHEELA, a 35-year-old Pakistani-American professional
Bios

AIZZAH FATIMA is a writer and actor based in NYC. Her first play Dirty Paki Lingerie has had sold out houses in NYC, Toronto, The Edinburgh Fringe Festival, Pakistan (US State Department 3 city tour), Turkmenistan, and a 15 city tour in the UK. Her second solo play Google, It's Complicated has had readings at The Lark and Pan Asian Rep in NYC, and a workshop with Experimental Bitch Presents. She was commissioned to write the book for a Children's musical with the Brooklyn Children's Theatre with a grant from the Doris Duke Foundation for Islamic Art. She has appeared on TV in High Maintenance (HBO), The Code (CBS), The Good Wife (CBS), Mata-e-jaan (HUM TV), Patrice O'Neal's Guide to White People (Comedy Central), Food Detectives with Ted Allen (Food Network), and Cinematherapy with comedian Chuck Nice (WEtv). Some of her favorite theatre credits include Acquittal (Pan Asian Rep), Romeo & Juliet (Access Theater), Half Hearted (The Cherry Lane Theater), #serials@theflea (The Flea Theater), Circumcaedere (LABrynth Ensemble), Play by Play: Rendez-Vous (Stageworks Hudson), Eve Ensler's The Vagina Monologues (Abingdon Theatre, NYC), Seven by Anna Deavere Smith, Ruth Margraff, Catherine Filloux, Carol K. Mack, Paula Cizmar, Gail Kriegel, and Susan Yankowitz, (Hostos Cultural Arts Center, NYC), the interactive musical Bollywood Wedding, and Ripe for the Picking, an original ensemble piece about human rights violations around the world. She also co-stars in the webseries Mumbai Chopra (www.mumbaichopra.com). Aizzah has performed at Upright Citizen's Brigade and appeared in sketches for collegehumor.com. She wrote and starred in a short film Stuff with Annette O'Toole and is in post production on her feature film based on characters from Dirty Paki Lingerie with Emmy award winner Iman Zawahry. She is the recipient of the 2020 Roddenberry Impact Award and winner of the 2020 Yes, And…Laughter Lab co-sponsored by Comedy Central with her TV pilot Muslim Girls DTF: Discuss Their Faith.
ERICA GOULD is a director and fight choreographer whose body of work includes the world premieres of Neil LaBute's plays autobahn and Stand Up (with Mos Def), SpeakEasy by writers including Theresa Rebeck and Rajiv Joseph (Joe's Pub/Public Theater), Troilus and Cressida (NY Stage & Film), As You Like It for the Shakespeare Theatre's Academy of Classical Acting in DC, and Dirty Paki Lingerie, which she developed with writer/solo performer Aizzah Fatima (Cherry Lane, 59E59, The Flea, Toronto, Edinburgh, Pakistan through the US State Dept, upcoming at John Jay) and which has been featured in The Wall Street Journal, NPR, CBC, BBC).   Other credits include the US premiere of Me Cago en Dios by Inigo Ramirez de Haro (La MaMa), Max and the Truffle Pig (NYMF), What Light From Darkness Grows w/ Phylicia Rashad and Harry Lennix (NPR–Gracie Allen Award), At War: American Playwrights Respond to Iraq with David Strathairn, Bebe Neuwirth, Daniel Sunjata, Gloria Reuben, and Bobby Cannavale (Bleecker Street Theater/The Fire Dept). Most recently, she directed Campbell Scott and Melissa Errico in More Between Heaven and Earth, Battalia, in collaboration with dancers from the NYC Ballet, and the site-specific opera-theatre piece The Heirs of Tantalus.
COBINA GILLITT Ph.D. (dramaturg) is a freelance dramaturg based in New York City. Her recent dramaturgy work includes Clive by Jonathan Marc Sherman (a retelling of Bertolt Brecht's Baal) directed by Ethan Hawke, Spring Awakening book and lyrics by Steven Sater directed by Kenneth Noel Mitchell, and Myself is in Pieces by Kate Maracle, reading directed by Erica Gould. Cobina is also a translator of Indonesian plays into English, several of which are published in a volume she edited entitled The Lontar Anthology of Indonesia Drama Vol 3: 1965-1998 (2010). She is currently a member of the theatre studies faculty in the Department of Drama in the Tisch School of the Arts, New York University. Her areas of expertise include dramaturgy & translation, Asian theatre and performance theory, and American and European 20th century avant-garde theatre theory, history, and practice. She has been a member of Jakarta-based Teater Mandiri since 1988, performing and holding workshops in Indonesia and internationally. Cobina is an active member of the PEN Translation Committee and Literary Managers and Dramaturgs of the Americas (LMDA).