For Immediate Release
April 19 – May 5, 2016
Youth Casting Call!
Middle and High School Students wanted for Bridge Street Theatre's 2018 Summer Production of David Mamet's
THE REVENGE OF THE SPACE PANDAS or
BINKY RUDICH AND THE TWO-SPEED CLOCK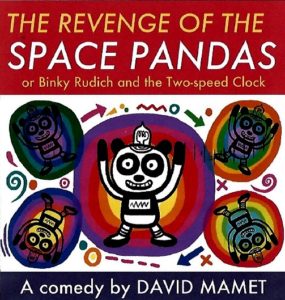 THE REVENGE OF THE SPACE PANDAS (graphic by Rodney Alan Greenblat)
Bridge Street Theatre in Catskill will hold auditions for middle and high school age actors for roles in its summer production of David Mamet's play for kids (and their adults) THE REVENGE OF THE SPACE PANDAS, to be directed by BST Associate Director Steven Patterson. Far better known for his foul-mouthed and occasionally profane adult dramas, this is one of Mamet's terrific early works – a retro-sci-fi adventure featuring a boy scientist, his intrepid female sidekick, and a sheep named Bob who make an accidental journey to the Planet Crestview (Fourth World in the Goolagong System, the Sweetheart of Space Sector Five) ruled over by a preening narcissist named George Topax who'll stop at nothing to become the only man in the Goose Nebula to possess a wool letterman's sweater. The play is being produced as part of Bridge Street Theatre's 2018 Mainstage Season and students will be working on the production alongside professional actors. There are numerous speaking roles available including Binky Rudich (a boy scientist), Vivian Mooster (his associate), Bob (a sheep), and various Space Pandas, Retainers, Jesters, Announcers, Residents of Crestview, etc. The theatre is searching for committed young actors who are willing to work hard and also have a whole lot of fun. Rehearsals begin June 18 and the show runs Thursdays – Sundays from July 12-22.
Auditions will be held at the theatre (44 West Bridge Street in Catskill) on Saturday May 5 in two parts – from 10am-12noon and from 12noon-2pm. Attend either session, dress to move, be prepared to play some theatre games and (possibly) to read aloud from the script. If you have any questions, send them to the theatre at contact@bridgest.org. We'd love to have you come play with us this summer!
Calendar:
Casting Call for Middle- and High School-aged Performers
For Bridge Street Theatre's Production of
David Mamet's
THE REVENGE OF THE SPACE PANDAS or
BINKY RUDICH AND THE TWO-SPEED CLOCK
Saturday May 5, 10am-12noon and 12noon-2pm
Bridge Street Theatre Mainstage
44 West Bridge Street, Catskill
Come dressed to move, play some theatre games,
and possibly read aloud from the script
Rehearsals begin on June 18
The show runs Thursdays thru Sundays from July 12-22.