Bridge Street Theatre's 2nd Annual Performathon!
Saturday April 28 from 10am to 6pm
Followed by a Grand Variety Show from 7-10pm
Bridge Street Theatre Mainstage
44 West Bridge Street, Catskill, NY
Bridge Street Theatre Hosts Its 2nd Annual Performathon Fundraiser April 28th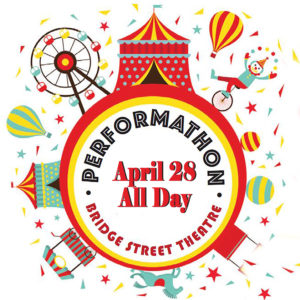 Bridge Street Theatre in the charming (and ever improving) village of Catskill, NY, will host its 2nd Annual Performathon Fundraiser in our Mainstage auditorium, located at 44 West Bridge Street, on Saturday, April 28, 2018 from 10 am to 6pm, followed by a Variety Show featuring some of the most talented performers in the region from 7-10pm.
We are looking for performers of all types: professional musicians and recorder players; opera singers and shower soloists; Shakespearian soliloquists, class clowns and anyone who likes to demand attention at family dinners with their thinly-veiled stand-up routines. We have only two requirements: you should love the stage and you should love supporting local theater.  We ask for a small donation of $1.00 per minute of performance time with a five-minute minimum and a 15-minute maximum (depending on the level of response, more time may be available). If you would like to contribute more, why not also round up sponsors to donate dollars for every minute you perform? Businesses may also choose from varying levels of sponsorship ranging from program listings, social media features, to annual advertising on our website. Interested in signing up to perform or to help sponsor?
Contact Kelly Thompson at kelly@bridgest.org and she'll set you up. Come strut your stuff on our stage (or root from the wings)!
Our annual Performathon is not only a way for you to express your inner creative spirit, but also a way to support this amazing cultural resource right here in Catskill. We need you and your hidden talents to make this a day full of fun for everybody. Daytime hours will feature community talent in a family-friendly county fair atmosphere. There will be refreshments, raffles, and more, all leading up to a grand Evening Variety Show on Saturday night.  Help ensure that you'll be able to keep enjoying live, local theatrical performances and keep our entire community thriving and growing. The Performathon is guaranteed to be a rip-roaring good time!
The 2018 Performathon Fundraiser will be presented on Saturday April 28 in two parts with two separate admission prices. Admission to Part One is only $2 for Adults, $1 for Kids 18 & under and is good from 10am till 6pm. Just pay at the door and stay as little or as long as you like. Tickets for Part Two, the 7pm Variety show, are $20 for adults, $15 for Bridge Street Theatre Subscribers, and $10 for Students ages 21 & under and can be purchased in advance at performathon.brownpapertickets.com or by calling Brown Paper Tickets at 800-838-3006. Variety Show tickets can also be purchased at the door one half hour prior to the performance subject to availability. For more details, visit the theatre online at BridgeStreetTheatre.org.

You're not going to want to miss either portion of this terrific community event. Come have a great time and help Bridge Street Theatre keep presenting the wonderful, eclectic work local audiences have come to expect from Catskill's "Bridge to Anywhere".
Performance Calendar:
Bridge Street Theatre's 2nd Annual Performathon!
Saturday April 28th from 10am to 10pm
Part One: YOU'RE THE STAR! 10am till 6pm
Contact kelly@bridgest.org to sign up for the opportunity to perform on our stage
Part Two: A GRAND VARIETY SHOW! 7-10PM
Some of the region's finest acts take the stage to perform for you!
Bridge Street Theatre Mainstage
44 West Bridge Street, Catskill, NY

Tickets:
Part One: Tickets at the door.
Only $2 for Adults, $1 for Kids 18 & under
Good from 10am-6pm
Part Two:
Advance tickets available at Performathon.brownpapertickets.com or by calling 800-838-3006
General Admission $20, $15 for BST Subscribers, & $10 for Students ages 21 and under
Tickets can also be purchased at the door one half hour before the 7pm curtain time (subject to availability)