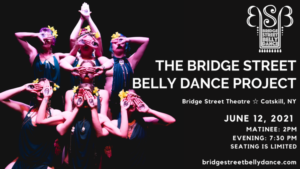 Bridge Street Theatre announces its first Live Performances in 2021.
Saturday, June 12 at 2:00pm & 7:00pm
Tickets available now at BrownPaperTickets.
NOTE: Special safety measures are in place for all attendees. Click here for details.
Who are we…
Without dance?
Without community, connection, and expression?
For over a year, dancers have been in their homes, without live performances and the reciprocal energy of audiences.
On June 9, 2021, a few dancers from the Bridge Street Belly Dance lineup are coming together at Bridge Street Theatre in Catskill, New York for a multi day collaborative performance project that will culminate in two live performances on June 12.
This show is dedicated to all of the dancers, creators, and people who both lost and found themselves during the isolation of the pandemic. Our mission is to create space to reconnect and to share the power of empathy and community. As a viewer, you will experience the process and the emotions of creation in a time where we need art and each other more than ever.
There are two live shows being held on June 12 with minimal seating available at 2:00pm and 7:30pm. The show will be transformed into a short documentary by JD Urban to share with everyone around the world online on July 17, 2021 at 7:30pm EST.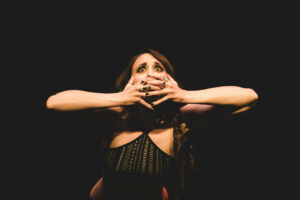 ☆☆☆☆☆☆☆☆☆☆☆☆☆☆
Bridge Street Belly Dance Project Dancers:
Heather Labonté
Jo Boring
Brenna Crowley
Francesca Avani
Danielle Hutton
Rose Calavera
Yvonne Michelle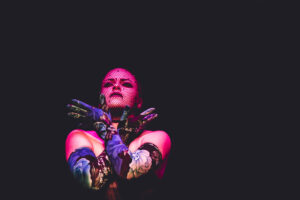 ☆☆☆☆☆☆☆☆☆☆☆☆☆☆
Live Shows
Date: June 12, 2021
Times: Matinee: 2:00 PM
Evening: 7:30 PM
Tickets: $18 in advance ☆ $20 at the door
Location: Bridge Street Theatre ☆ Catskill, NY
Online Show
Date: July 17, 2021
Time: 7:30 PM EDT
Location: Crowdcast ☆ Your Living Room
Link & Tickets: CLICK HERE.