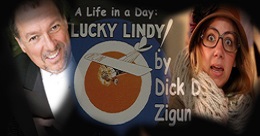 April 1. Eric Michael Gillett, Man About Town, the Wit and Wisdom of Noel Coward
April 11. Quiles & Cloud
April 14-24 A Life in a Day: Lucky Lindy
April 29 – May 1. Anna Carol's Aunt Nona
Eric Michael Gillett
Man About Town – The Wit and Wisdom of Noel Coward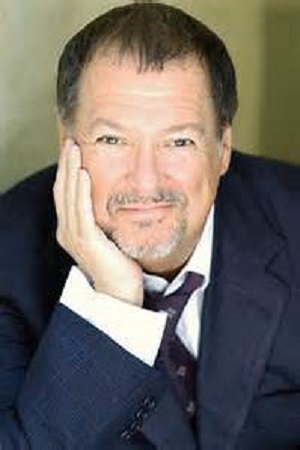 "You must not hesitate for one second to attend this marvelous party, because, to use just one more Noel Coward song title, I'm simplyy Mad About the Boyy!""
Jonathan Shade,, Cabaret Scenes, NYY
Eric Michael Gillett: Man About Town – The Wit an Wisdom of Noel Coward
"Words & Music: The Songbook Series", a four-program line-up of stellar cabaret entertainment curated by Tom Andersen, kicks off in Catskill on April 1 with five-time MAC Award winner Eric Michael Gillet in "Man About Town: The Wit and Wisdom of Noel Coward". This stylish and sophisticated evening will be presented at 8:00pm in Bridge Street Theatre's intimate "Speakeasy", located at 44 West Bridge Street in the Village of Catskill.
"Our audience absolutely swooned over Eric Michael's 'Careless Rhapsody: The Lyrics of Lorenz Hart' last season," says Bridge Street Theatre Associate Director Steven Patterson. "The man's a monster talent. And Coward is, of course, one of those songwriters who can make you howl with laughter with one tune and totally break your heart with the next. Combine the two and you've got a match made in cabaret heaven."
Quiles & Cloud
with Oscar Westesson on bass
Plus special guests Jumbo Bungalow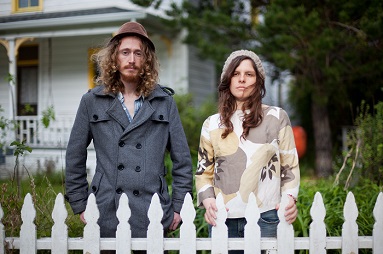 Qules & Cloud
Award-winning contemporary bluegrass duo Maria Quiles and Rory Cloud (joined by stand-up bassist Oscar Westesson) return to Catskill's intimate Bridge Street Theatre Speakeasy for a special one-night-only engagement on Monday April 11 at 7:30 pm. Opening for them that night will be Bridge Street's own Alison Davy and Carmen Borgia.
From their humble beginnings in the folk clubs of San Francisco to hundreds of concerts across thousands of miles, Quiles & Cloud have given voice to the landscape of modern America with a timeless blend of storytelling, vocal harmony and acoustic instrumentation. They now have three live-in-studio albums to their credit – "Long Time Coming" 2012, "Seminole Star" 2014, and the recent "Beyond the Rain". In September 2014 they received an award for "Best Duo" at MASS MoCA's FreshGrass Bluegrass & Roots Music Festival in North Adams, MA, and as part of their prize, they made a triumphant return in September 2015 to perform on the Festival's main stage, just prior to their initial Bridge Street engagement.
Dick D. Zigun's
A Life in a Day: Lucky Lindy
American history in a funhouse mirror!  A side-splitting sideshow romp through the life of Charles A. Lindbergh,  penned by "The Unofficial Mayor of Coney Island"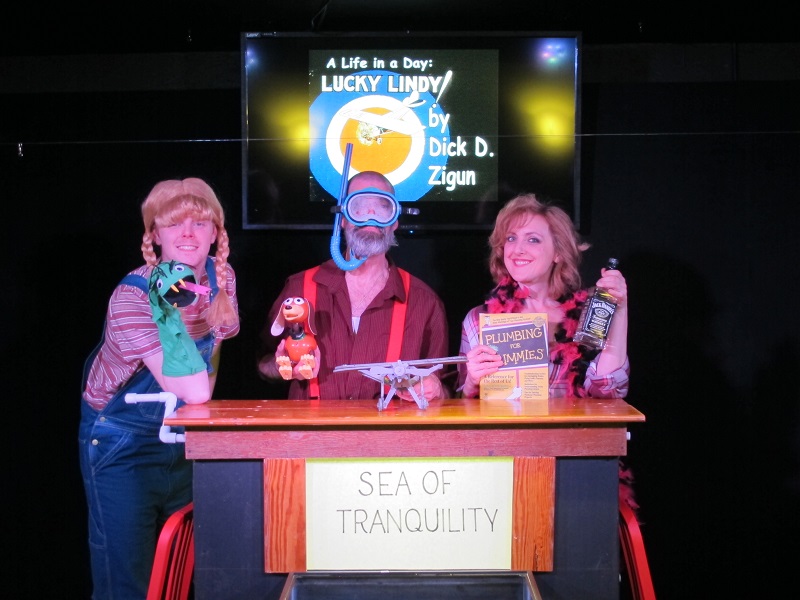 A
side-splitting sideshow romp through the life and times of aviator Charles A. Lindbergh, penned by "The Unofficial Mayor of Coney Island". Three actors play over a hundred roles in this wacky (and ultimately moving) examination of the pleasures and pitfalls of celebrity.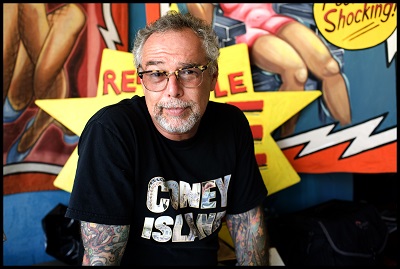 Dick D. Zigun
"When we began searching for a play to open our first ever six-show Subscription Season here at BST, we knew we wanted to select something truly celebratory," says Steven Patterson, cast member and Bridge Street Theatre's Associate Director. "I saw 'Lucky Lindy' back in 1979 when it was produced in Los Angeles as part of the Mark Taper Forum's New Works Series. It remains one of the funniest and most oddly moving pieces of theater I've ever seen. Sort of Monty Python meets The History Channel. And since one of our missions here is the resurrection of what we feel are terrific but neglected works, we felt 'Lindy' not only fit the bill, but would be a tremendous hit with our audiences as well. It's a great opening salvo!"
With  Steven Patterson, Molly Parker Myers and Caedmon Holland
Directed by John Sowle
Performed April 14 – 24, 2016
DICK D. ZIGUN (Playwright) is 5'10", 175lbs. Born in 1953. Brown hair and eyes with a graying goatee and heavily tattooed arms. He owns a variety of outfits including an antique wool bathing suit, a three-piece plaid suit, straw, derby (red, gray or black), or opera hats. Vintage sunglasses in choice of blue or orange. Optional cane or cigar, megaphone, bass drum or snake. Known to many as the "Unofficial Mayor of Coney Island", Dick is an authority on amusement parks, American popular theater and the history and tradition of the American sideshow.  An excellent public speaker with many TV appearances to his credit, he lectures college classes and other groups.  Dick not only produces Sideshows by the Seashore, but the Mermaid Parade (America's Largest Art Parade), Acts and Arts at Astroland (including Airshows and Fireworks), and a Tattoo Festival. He holds an MFA from the Yale School of Drama and is the author of ten full-length original plays. He is also a legal Marriage Officiant in New York (Yes, Dick can perform your wedding ceremony! 100 Percent Guaranteed True!).
MOLLY PARKER-MYERS (WOMAN) is an actor and singer based in the Hudson Valley.  Molly appeared in Kaliyuga Arts' productions of KILL ME NOW (Robyn), TRUE LOVE LIES (Carolyn), and THE MOUND BUILDERS (Cynthia) at the Cross Street Theatre Center in Hudson and has graced Bridge Street Theatre's Speakeasy stage in LARK EDEN (Mary) and her own COMEBACK! A TRAGICOMIC CABARET. Other recent credits include HOUSE OF BLUE LEAVES (Bananas) for Wellesley Repertory Theatre, TALLEY'S FOLLY (Sally) and LOST IN YONKERS (Bella) at the Winnipesaukee Playhouse, INTO THE WOODS (Baker's Wife) and A LITTLE NIGHT MUSIC (Desiree) at Rhinebeck Theatre Society, THE LADIES MAN (Marie) at Shadowland Theatre, and THE SOUND OF MUSIC (Elsa) at TriArts Sharon Playhouse.
STEVEN PATTERSON (MAN) has performed regionally and in New York City with theaters such as South Coast Repertory, freeFall Theatre, TheatreWorks/Silicon Valley, Capital Repertory, Kaliyuga Arts, and with the Oregon, Orlando, Tennessee, Colorado, Pennsylvania, Utah, and Lake Tahoe Shakespeare Festivals. Favorite roles have included Lear in KING LEAR, Jean Genet in BEAUTY, Austin Wiggin in THE SHAGGS: PHILOSOPHY OF THE WORLD, David in POOR SUPER MAN, Judi Boswell in HOW TO PRAY, and Jake Sturdy in KILL ME NOW. Steven also serves as Bridge Street Theatre's Associate Director.
CAEDMON HOLLAND (KID) is a 25-year-old actor from Delmar NY. He grew up learning theater, and at the age of six started attending The New York State Theater Institute's summer theater program. He continued with this until the age of 14, where he started focusing more on film in high school. At 19, Caedmon transferred to the University of New Mexico in Albuquerque. It was there that Caedmon was part of the only Western Theater school performance in the world to be invited to participate in the First International Asian Theater Festival in 2010. After directing a very successful play his senior year, Caedmon graduated UNM with a BA in Theater in December 2014. Since then, Caedmon has been back home in Upstate NY, participating in local theater and trying to earn enough resume credentials for a move to NYC or LA.
JOHN SOWLE (Director) is Managing Director of Bridge Street Theatre. He founded Kaliyuga Arts in 1986 with his partner Steven Patterson and has received multiple awards for his directing and design work on their Los Angeles, San Francisco and New York productions. In Manhattan, John directed and designed Samuel Beckett's ALL THAT FALL and Dan Carbone's KINGDOM OF NOT at the Cherry Lane and the Al Carmines/Gertrude Stein musical IN CIRCLES at Judson Church. In 2012 he directed and designed THE MOUND BUILDERS and in 2013 directed and designed two Brad Fraser plays, TRUE LOVE LIES and the U.S. premiere of KILL ME NOW, all at the Cross Street Theatre Center (Stageworks) in Hudson, NY. Last year he directed and designed the Bridge Street Theatre productions of THE EPIC OF GILGAMESH, THE KILLING & THE LOVE DEATH (late plays of William Inge), and GRINDER'S STAND by Oakley Hall III. John has an undergraduate degree in mathematics from M.I.T and a PhD in Dramatic Art from UC Berkeley.
Anna Carol's Aunt Nona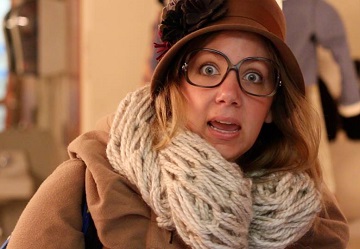 Spend an hysterically funny evening visiting with Anna Carol's "Aunt Nona" from North Dakota.
Anna Carol presents Aunt Nona
"Do you know who has the best make-up tips of all time? Drag queens."
Spend an hour in Nona's Dressing Room just prior to her solo performance debut on the Great White Way … in Fargo, North Dakota. Through stand-up, improv, and storytelling, Anna Carol explores the idiosyncrasies of Nona's life as she attempts to find her way in a world of jingle writing, cookies and bars, gay nephews, boyfriends, drag queens, mothers, meat raffles, and lady locker rooms. While she optimistically muddles through every misstep, she's definitely not without those fears she just can't seem to conquer.
For every misfit, college graduate, or millionaire who has craved a life beyond fixed boundaries,
Aunt Nona is the family member who will always be there with you to commiserate, communicate, and cachinnate.