SPINNING MY WHEELS
Written and performed by Michael Garfield Levine
Directed by Caitlin Langstaff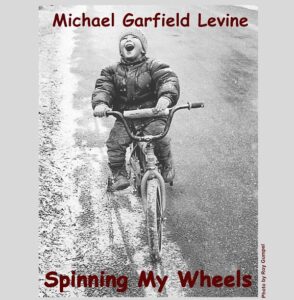 "A performance to be remembered … Levine takes us on an epic journey through some of the most painful experiences a human can confront. He relates his soul-searching frustrations as he tells us of his pain, doubts, fears, and, ultimately, redemption thanks to the people around him … A charismatic actor, he entrances an audience with his quips, charm and, especially, honesty. His conscience is laid bare in front of people whom he does not know in an ingratiating and charming manner. It takes a lot of guts to do this. The audience is rapt as he shares his innermost human tribulations." Macey Levin, Berkshire On Stage
"Bravo, Michael! A wonderfully moving show and an amazing journey. Thank you for your truth and a dynamic performance!" Eddie Allen
"A great performance – funny, sad, unsparing and inspiring!" Bill Weeden
"An amazing evening of theatre. Just wow in every way!" David Steward
"Thank you for so bravely and honestly sharing your story. Congratulations on the beautiful performance!" Janet Margolis
"Fantastic play – powerful story, flow, and acting – touching, riveting, honest." Susanna Ronner
This roller coaster of a ride takes us from the streets and theaters of New York to the hills of Vermont, into the depths of Michael's psyche as he battles mental illness and addiction, and back up to sanity whilst encountering a host of unsavory and masterful characters.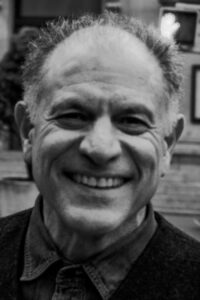 Michael Garfield Levine, native New Yorker, has worked in theatre: the Champlain Shakespeare Festival, Portland Stage Company, and Virginia Stage Company. He has appeared in film and television ("Law and Order", "Sopranos", daytime dramas). He studied at The Neighborhood Playhouse and was an original member of The Circle Repertory Lab. He has also made many commercials and voice overs for television and radio. He raced bicycles for 30 years, competing among National Champions, Olympians, and Tour de France winners. Michael drove a NYC taxicab for five years and lived to tell about it. Mr. Levine resides in The Hudson Valley where he writes and rides. "Spinning My Wheels" was originally developed in Melinda Buckley's One Up! Solo Workshop and in Seth Barrish's Solo-Show Performance Class at The Barrow Group. Michael would like to express his gratitude to his wife Nancy O'Hara for her invaluable contribution in the writing and editing of "Spinning My Wheels". To Caitlin Langstaff for her directorial expertise and superb guidance. And a very special thanks to Steven and John of Bridge Street Theatre for their generosity in giving me this opportunity to premier my work. Thanks for joining me on this ride!
Caitlin Langstaff (Director) is an actor, director, producer, story coach and teacher. She holds an M.F.A. in theatre and is a member of The Actors Studio and Actors Equity. She was the founder of Tidal Theatre Company and Tsunami Sound Waves, producing original work for the stage and radio. She co-created and produced The Mosquito, the Outer Capes only story slam. Caitlin also creates site-specific theatre including Car Theatre, Deli Theatre and theatre in elevators. She transcribed and directed "At Ease", a documentary piece built from interviews with Afghanistan and Iraq U.S. Veterans. She was a professor at Suffolk University for 11 years teaching all aspects of theatre. She is co-producer of On The Fly Story Slam at Avalon in Catskill. Founder of Hudson Valley Story Workshops.