Concrete Temple Theatre's
PACKRAT

Created by: Renee Philippi and Carlo Adinolfi
Written and Directed by: Renee Philippi
Designed by: Carlo Adinolfi
Original Music by: Lewis Flinn
Packrat Trailer from Concrete Temple on Vimeo.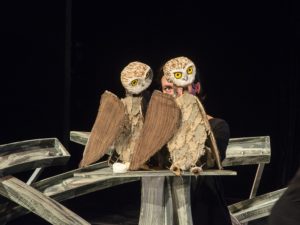 PACKRAT is a new multi-media puppetry play that contemplates humanity's relationship with the natural world. Inspired by the classic survival and adventure novel, "Watership Down," PACKRAT follows one peculiar rodent on his vivacious journey to discover the interconnectedness of life.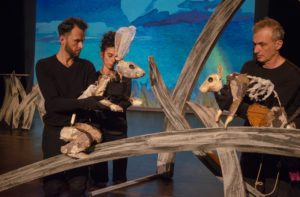 Set deep in the Sagebrush Desert, PACKRAT is a puppet-forward new multi-media play that contemplates humanity's relationship with the natural world. At the center of the action is Bud, a peculiar rodent with a penchant for hoarding humankind's goods. When a discarded cigar sparks a wild fire, the animals in Bud's valley flee for their lives. Already an outcast among the desert animals for his hoarding instincts, he gets blamed for the human-made disasters infiltrating their lives. When they ban him from the community, Bud must set out alone amidst a raging fire, to confront human-made dangers and a few natural ones. PACKRAT is a poignant account of Bud's journey to find his place in the world, and his ultimate realization that the interconnectedness of life rules the day.
BIOS
CONCRETE TEMPLE THEATRE is a multi-disciplinary company, committed to the creation of compelling new theatrical works, incorporating drama, dance, puppetry, music and the visual arts. Since 2004, the company has created devised visual theatre that challenges the traditional relationship between design and text. Through touring original works and presenting workshops in NYC, nationally and internationally, we strive to bring myth and ritual back to the center of dialogue, by presenting works and workshops that address real issues within communities (grief, family relationships, environmental stewardship). We have presented our work for NYC audiences at venues like Ohio Theatre, HERE, and Barrow Street Theatre and have been artist-in-residence in NYC at The Flea Theater, Dixon Place, Mabou Mines, St. Ann's Warehouse and chashama. Concrete Temple has toured work nationally at venues like: The Yard, Bard Summerscape, Detroit Institute of Arts, Pontine Theatre, Dairy Center for the Arts, Amphibian Stage Productions and internationally: London, Sri Lanka, India, Bulgaria, Turkey, Italy, Scotland, South Korea and Costa Rica. www.ConcreteTempleTheatre.com
CARLO ADINOLFI (Puppets/Scenic Designer/Puppeteer) has worked in the theatre for 32 years and is fluent in Italian. Along with Renee Philippi, Carlo is Artistic Director of CTT.  He was born in Italy and received a BSc in Mathematics, Warwick University. Carlo is a Dancer, Designer, Actor and TD and CTT's Set Designer and TD. Most recently, he has been performing solo as Geppetto in GEPPETTO, touring nationally and internationally, most recently London (January 2018), Korea (January 2017). Carlo designed and built the set and puppets for GEPPETTO. Carlo has taught set design at Simon's Rock and at Sarah Lawrence College and Stagecraft at Community Roots Middle School. He is a recipient of the Bel Geddes Design Enhancement for his design of THE BELLAGIO FOUNTAIN HAS BEEN KNOWN TO MAKE ME CRY, an Independent Artists Challenge Award, Henson Foundation Grants, an EST/Alfred P. Sloan Foundation Science Commission, and a Berkshire Taconic Foundation Commission. The Scotsman (UK) said Carlo Adinolfi exudes "strength, grace, and agility" on the stage, The Independent (UK) praised him as a "beguiling and versatile entertainer," and Daily Mail (UK) cheered his "astonishing artistry," calling him a "skillful actor/choreographer." As designer NY Theatre Review said: "Adinolfi's design is thrilling;" One Magazine wrote: "The most inventive, wondrous sets in NYC are being created by Concrete Temple Theatre…their work is extraordinary." Carlo has been resident artist: The Yard, Flea Theatre, Flint Institute of Arts, Hudson Opera House.
LAURA ANDERSON BARBATA (Costume Designer) was born in Mexico City, works in Brooklyn and Mexico City. Since 1992 she has worked primarily in the social realm, and has initiated projects in the Amazon of Venezuela, Trinidad and Tobago, Mexico, Norway and the USA. Among them is her ongoing project The Repatriation of Julia Pastrana, 2004. She is also known for her project Transcommunality(ongoing since 2001), with traditional stilt dancers: The Brooklyn Jumbies fromNew York, West Africa and the Caribbean, and los Zancudos de Zaachila, from Oaxaca, Mexico.  This project has been presented at various museums, public schools and avenues, among them The Museum of Modern Art New York; TheModern Museum Fort Worth Texas; Museo Textil de Oaxaca, México; Museo de la Ciudad de México; BRIC, New York and Rutgers University, among others.  http://www.lauraandersonbarbata.com/
LEWIS FLINN (Composer) has worked as a theatre professional for the past 25 years. He is the composer and lyricist of the Broadway musical Lysistrata Jones (with a book by Douglas Carter Beane) that also ran at The Dallas Theater Center and Off-Broadway with the Transport Group.  Other current projects with Beane include Hood (Dallas Theater Center, Best Musical 0f Dallas 2017) and the upcoming To Wong Foo.  Other musicals include Like Love (NYMF) and The Winner (Lyric Stage, Dallas).  Flinn has composed scores and songs for over 50 Broadway, Off-Broadway, and regional productions including TONY nominated The Little Dog Laughed, Charles Busch's Die Mommie Die, The Divine Sister, The Tribute Artist (Drama Desk Nom for Best Music) and The Third Story.  Other theaters include Playwright's Horizons, MCC, South Coast Rep, The Geffen Playhouse, The Cleveland Play House, The Old Globe, La Jolla Playhouse, Lincoln Center Theater, 2nd Stage Theater, and the Drama Dept.  He has been a guest artist at Cornell, Dartmouth, The Boston Conservatory, The Royal Academy London and The American Academy of Dramatic Arts.  He composed the themes and music for the TV shows Power of 10 and Million Dollar Password as well as scores for dozens of national commercials.  He is a graduate of Princeton University and lives in New York with husband, Douglas Carter Beane, and their children, Cooper and Gaby, and dogs, Lucky and Albert.
ERIC NIGHTENGALE (Dramaturg/Lights & Sound Designer) has worked as a theatre professional for the past 29 years, serving as Artistic Director of 78th Street Theatre Lab in NYC, 1995-2008, directing over 50 productions and overseeing the development of countless others. Other New York directing credits include: Circle Repertory Theatre, The Acting Company, Circle in the Square, The River Ensemble, Ensemble Studio Theatre, HERE, and Classic Stage Company. Eric has served as Artistic Director for Anchorage Theatre, Louisville, Zone 9 Productions, Indianapolis and Actors Repertory Theatre, Chicago. Chicago directing credits include: Victory Gardens Theatre, Bailiwick Repertory Theatre, Steppenwolf, Chicago Dramatists Workshop, Broadway Arts Center and Second City. He has served as Associate Artistic Director for the Developing Artists Series at the Drama League of NY and developed work at New Harmony Project and Last Frontier Theatre Conference. He has guest directed at universities including Indiana University, Brooklyn College, Towsen University, Evansville University and St. Johns University, among others. Radio drama credits include work broadcast nationally over NPR affiliate stations, and in the UK over BBC channel 4. He has worked as a teaching artist for the Lincoln Center Institute, Theatre Development Fund. His work at the Edinburgh Festival Fringe has resulted in three Fringe First awards, eight published scripts, four adaptations for BBC radio, a Best Ensemble award, and a London transfer. Recent work includes, The Frog Singer, an electro-luminescent-wire puppet play, and The Natasha Plays, currently performing in Bratislava, Slovakia and Varna, Bulgaria.
RENEE PHILIPPI (Writer/Director), Co-Artistic Director of Concrete Temple Theatre: for over 25 years, Renee has been writing and directing in NYC and has toured work nationally at venues like: The Yard, Bard Summerscape, St. Ann's Warehouse, Detroit Institute of Arts, Pontine Theatre, Dairy Center for the Arts, Amphibian Stage Productions and internationally: Sri Lanka, India, Bulgaria, Turkey, Italy, Scotland, Germany, South Korea and Costa Rica. Renee has created 13 original works in the past 15 years. Her newest work "The Waitress and The Robber" will premiere at the Seoul Performing Arts Festival, South Korea, October 2019. Renee is a member of Spiderwoman Theatre, Women's Project Directors Forum, Lincoln Center's Directors Lab, New Georges, LPTW and has been Artist-in-Residence with Mabou Mines, Playwrights Center Minneapolis, Directors Company, Nantucket Historical Association, The Flea, The Yard, Dixon Place, and Directing Fellow, Williamstown Theatre Festival. Her work has been described as: "Thought-provoking and emotional" "Explores what it truly means to be human." (TheatreScene.net), "Drama, as it should be, with fine writing and flawless direction." (Talkin' Broadway) "…A world that is vast and sprawling, spanning continents and cultures" (Off Off Online).
 PUPPETEERS BIOS
Carlo Adinolfi: http://concretetempletheatre.com/new/wp-content/uploads/2012/03/Carlo-Bio_website_rev2015.pdf
Sabrina DeWeerdt: n/a
Margaret Gayford: https://www.maggiegayford.com/about
Jenny Hann: https://www.jennyhann.com/puppetry
Kayla Prestel: http://www.kaylaprestel.com/
Alanna Strong: https://www.alannastrong.com/
PACKRAT is supported in part by: The Jim Henson Foundation, The Hellen Plummer Foundation, Lake Placid Center for the Arts, Lake Placid, NY, The Access Theater Residency Program, Emerging Artists Theatre, Dixon Place Puppet BloK, as well as The Nancy Quinn Fund, a program of the A.R.T./New York and subsidized studio space provided by the A.R.T./New York Creative Space Grant, supported by the Andrew W. Mellon Foundation and public funds from the New York City Department of Cultural Affairs in partnership with the City Council and by the New York State Council on the Arts with the support of Governor Andrew Cuomo and the New York State Legislature.