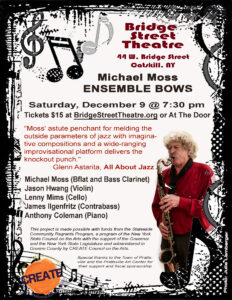 Reed player/composer Michael Moss has been actively involved in the music scene for many years, leading his own musical groups including currently Bows Ensemble for Strings and Piano, ROOTS to SHOOTS, the Accidental Orchestra—a 22-piece renaissance jazz orchestra, Mike Moss/4 Rivers, and Free Energy. Collaborations include electroacoustic composer James Dashow, choreographer Judith Moss, storyteller Regina Ress, and playwright Domnica Radulescu. Numerous grants include Meet the Composer (NewMusicUSA), NYSCA, Lower Manhattan Cultural Council (LMCC), RESTARTNY grant from LMCC for 2021 and CREATE Council on the Arts in 2022 and 2023. His record label, Fourth Stream Records, has produced multiple LPs, cassettes, and CDs including HELIX by the Accidental Orchestra, Intervals, Free Play, Dream Time, and In Between Gigs (New York Free Quartet), Pyramid, Upstream, Cross Current, Live at ACIA, etc. Performances and commissions are wide-ranging— Little Island, Bridge Street Theatre, Turks and Caicos Friends of the Arts Foundation, Isthmus Jazz Festival, New York Loft Jazz Celebrations, Revelation Gallery and Westbeth Music Festivals. Michael Moss holds a Ph.D. in psychology.
Jason Kao Hwang (violin) explores the vibrations of his history. His most recent releases, Critical Response, Uncharted Faith, and The Human Rites Trio, have received critical acclaim. Mr. Hwang imagines this musical experience of the Chinese language as the foundation of his creative instincts. In addition, amongst his many musical inspirations are the Chinese erhu and pipa, as well as the Korean gayageum. In 2020, 2019, 2018, 2013 and 2012, the El Intruso International Critics Poll voted him #1 for Violin/Viola. The 2012 Downbeat Critics' Poll voted Mr. Hwang as Rising Star for Violin. He has worked with William Parker, Anthony Braxton, Butch Morris, Reggie Workman, Pauline Oliveros, Steve Swell, Taylor Ho Bynum, Tomeka Reid, Patrick Brennan, and others.
James Ilgenfritz is recognized in The New Yorker for his "characteristic magnanimity" and his "invaluable contributions to New York's new-music community." James has performed around the US, Europe, and in Asia with his bands Hypercolor and 4tet2duos, and has performed with Anthony Braxton, Roscoe Mitchell, Rufus Reid, Steve Swell, and John Zorn. He has composed for the Ghost Ensemble, the New Thread saxophone quartet, HUB New Music, Hypercube, baritone Thomas Buckner, and the Ostravska Banda in the Czech Republic. Recent albums include Altamirage, featuring duets with and compositions by Pauline Oliveros, Aging, with Czech-born composer/performer Lucie Vítková, and #entrainments (featuring drummer Gerry Hemingway, Köln-based cellist Nathan Bontrager, and saxophonist Angelika Niescier). These releases follow two solo albums: Origami Cosmos and Compositions (Braxton) 2011 (featuring music by Annie Gosfield, Miya Masaoka, Elliott Sharp, JG Thirlwell, and Anthony Braxton). He holds a PhD from University of California Irvine, as well as degrees fromUniversity of Michigan and University of California San Diego. James had two residencies at John Zorn's The Stone in 2015 and 2018, and has composed two operas, The Ticket That Exploded (2011, using text by William S. Burroughs) and I Looked At The Eclipse (2019, with librettist Sarah Krasnow). His current projects include solo and ensemble performance situations with his Autonomous Mechanical Instrument Array (AMIA) and his Alien Generator alternate tuning system.
Born and raised in New York City, cellist Lenny Mims began studying piano at the age of six and added the cello at the age of eleven. Raising a family, pursuing a career and community work resulted in a 22-year hiatus from playing. Upon retiring from work as a Statistical Programs manager and budget financial analyst he returned with a renewed passion for playing and sharing his love of music. Although his primary focus has been on classical music – orchestral and chamber – he has broadened his musical journey and exploration to include jazz, gospel, and pop. He has performed with numerous professional and community orchestras, opera productions and chamber groups throughout NYC.
Anthony Coleman has been one of the key figures of New York music for nearly four decades. His work bridges the gap between Composition and Improvisation, Uptown and Downtown, and spans a wide range of genres and practices including Free Improvisation, Jazz, Jewish music (of various types), and Contemporary Chamber Music. Coleman immersed himself in New York City's forward-thinking circle of genre- confounding composers and improvisers that would come to be known as the Downtown Scene. The first two records Coleman played on, Glenn Branca's Lesson No. 1 and John Zorn's Archery, are classics of a then-emerging avant – garde. Balancing a powerful sense of structural logic and expressionistic color, Coleman has had a prolific career as a composer. His works have been commissioned by the Concert Artist Guild, the Ruhrtriennale, the Festival Banlieues Blues, and theBang on a Can All-Stars, among others. He has received grants from the New York Foundation for the Arts, New York State Council on the Arts, Meet the Composer, etc. He has presented his own work at the Sarajevo Jazz Festival (Bosnia), North Sea Jazz Festival (Holland), Saalfelden Festival (Austria), and the Krakow and Vienna Jewish Culture Festivals. He has also toured and recorded with John Zorn, Elliott Sharp, Marc Ribot, Shelley Hirsch, Roy Nathanson, and many others. Coleman has recorded 20 CDs under his own name and has played on more than 150. His most recent recordings include You (New World) and The End of Summer (Tzadik), and …im Gebirg (ROS4), all of which are recordings of his Chamber Music, and three solo piano albums. His Damaged by Sunlight (2010) was issued on DVD bythe French label La Huit.