Vintage Acoustic Musical Americana!
A Special Independence Day Weekend Concert
with Thomas Lindsay, Michael Eck, and Paul Jossman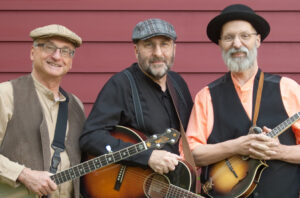 Lost Radio Rounders
No reservations, general seating, limited capacity (only 84 seats), first come/first served. Just show up at 44 West Bridge Street in Catskill on July 3 (doors open at 1:30pm) and pay whatever you wish. Donations will be gratefully accepted!

Come party with the Lost Radio Ramblers this 4th of July weekend! The Albany-based acoustic trio, specializing in the preservation and revival of vintage musical Americana, will present a family-friendly summer holiday program at Catskill's Bridge Street Theatre on Sunday July 3 at 2:00 in the afternoon. Blending fun, fact, and fancy with illuminating introductions, this toe-tapping concert of historic musical curiosities, honky-tonk numbers, and sing-along tunes gives a nod to everyone from our founding fathers to the war heroes who've preserved our freedoms to the bad men (and women) who put the "wild" in the Wild West. Michael Eck and Paul Jossman (former members of Bridge Street favorites the Ramblin Jug Stompers) join Thomas Lindsay for this rompin', stompin', good-time celebration of our country's history and the 246th Anniversary of its birth!
Since 2009 Albany's Lost Radio Rounders have been one of upstate New York's premiere Acoustic Americana duos, and in 2021 they welcomed banjo, guitar player, and vocalist Paul Jossman to the fold. Jossman and Lost Radio Rounders co-founder Michael Eck are both members of the Capital Region Thomas Edison Music Hall of Fame. Tom Lindsay and Michael Eck have been lauded for their work keeping the legacy of American folk music alive, with the Daily Gazette's Michael Hochanadel calling them, "versatile and deep;" Times Union music blogger Andrew Gregory dubbing them, "absolute professionals with huge talent;" and Nippertown correspondent Cheryl Jenks stating, "Their knowledge, love and passion for old-time American music is evident in every part of their performance." In addition to this special one-time-only concert drawing from their repertoire of nearly 500 songs, the trio currently offers over a dozen themed programs covering many aspects of America's rich musical history. Each is a well-researched, entertaining and informative survey, packed with history about the songs, the sources and the intriguing acoustic instruments played by Lindsay, Eck & Jossman.
TOM LINDSAY (Vocals – 6, 12-String and Baritone Guitars – Piano) is a photographer, educator, and recording engineer specializing in live & location recording. His vocal skills, knowledge of American history, and sense of humor are just a few of the assets he brings to Lost Radio Rounders. Tom has taught New York State Cultural History, American music history, audio/video technology, and photography at the 5th through 12th grade levels. His photography and writing frequently appear in N.Y.S. Conservationist magazine.
MICHAEL ECK (Vocals – Mandolin – Guitar and Tenor Guitar – Dobro – Ukulele – Banjo). As a songwriter, Michael has four solo albums to his credit, each of which reflects different facets of his own interest in the long reach of American music. His work as a nationally recognized, widely published music critic has earned him a spot as a Rock & Roll Hall of Fame voter. Mr. Eck is also a visual artist whose portraits focus on American roots musicians. Michael is a 2022 inductee to the Capital Region Thomas Edison Music Hall of Fame.
PAUL JOSSMAN (Banjo – Guitar – Vocals). A founding member of The Star-Spangled Washboard Band, Blotto, and Ramblin Jug Stompers, Paul's performing and recording resume is beyond impressive… and he knows a lot of banjo jokes. Paul is a 2020 inductee to the Capital Region Thomas Edison Music Hall of Fame.
Visit LostRadioRounders.com for more on these amazing musician/historians and then come whoop it up with them in Catskill on Independence Day weekend!