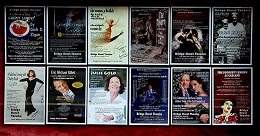 First off, thank you Steve Barnes of the Albany Times Union for including Bridge Street Theatre in his  "Critic's Choice: 2016." There were only five theatres on this list, and Bridge Street Theatre was cited for three of the productions he saw, "Lucky Lindy," "Gidion's Knot," and "Frankenstein." Here's the quote, and we couldn't be happier:
"Bridge Street Theatre, Catskill. A little company with big ambitions, Bridge Street gets a nod for three of its productions from this past year: The quirky, creative "A Life in a Day: Lucky Lindy," about Charles Lindbergh; the harrowing confrontation between a grieving mother and her late son's teacher that is "Gidion's Knot"; and the one-man tour-de-force "Frankenstein: The Modern Prometheus." Though vastly different works of theater, they're united by Bridge Street's dedication to artistic rigor, top-notch acting and expert directing; all three were guided by Bridge Street co-founder John Sowle (who also usually does much of the design work). The company also deserves kudos for inaugurating its main theater this year. Though audiences are still tiny, usually, those few who make the trip know they're almost guaranteed to see something worthwhile."
HERE is a link the full article.
And then Jim Riley interviewed John and Steven on Episode 13 of his Hometown Spotlight show on Mid-Hudson Cable. Check it out.
We've got an amazing season in the works for 2017 starting with our first show in March. We'll be making the official season announcement in early February, but we've got some very special events coming up in February.  Check back here for more information!