First off, if you haven't heard, a big announcement to all our fans. The New York State Regional Economic Development Counsel (REDC) let us know that we have received a New York Main Street (NYMS) Downtown Anchor Project grant that will give Bridge Street Theatre $105,000 to renovate our Raw Space into the Main Stage, a real theatre with comfortable seats, great sight lines, a control room, a sprung floor stage (that can be used for dance performances), backstage dressing rooms, all the features you expect from a professional theatre company operation. Of course we also have to provide a 25% match (you'll be hearing more about that) and follow the rather strict guidelines required by the grant, but we're hoping to start construction by February and have the space ready in the late spring.
Also Click Here to read James Year's Metroland year-end review of the best regional theatre of 2015.
And Click Here to read Steve Barnes Times Union year-end review of the best regional theatre of 2015.
Notice that Bridge Street Theatre makes both lists for multiple shows.
We now have a new marquee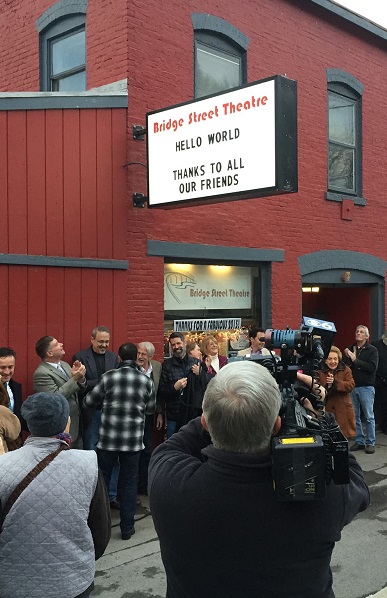 The Greene County Legislature, BST Board Member Michael Temlin, and Sawyer Chevrolet have provided the funds for a new Marquee for Bridge Street Theatre. Chris Gibson, George Amadore, Peter Lopez, Linda Overbaugh and Vincent Seeley were all preset for the unveiling on Saturday, January 2.
The Magic of Caroline Ravn
Sunday, January 10 @ 2 pm
And now for something completely different! Audiences have learned to expect the unexpected whenever they pass through the doors at Bridge Street Theatre. And having already established a reputation for presenting the finest talents in the world of magic in our Speakeasy (Christian Cagigal, Magick Balay, Steven Brundage, and Mario Morris among them), we're now thrilled to have presented one of the world's few female magicians. Despite her young age, Caroline Ravn has already won a Silver Medal in the Championships of Magic in her native Sweden where she was also voted best in Parlor Magic 2015. Within a year of taking up magic as an adult, she was invited to perform at Hollywood's prestigious Magic Castle and is now in demand around the globe. A true entertainer, Caroline charms audiences of all ages with humor, elegance, and dexterity, making them howl with laughter and question all their senses.