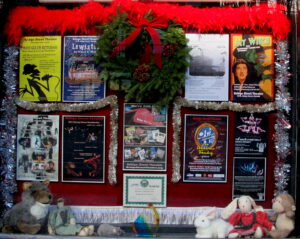 Here's the letter we just sent out, which you may have received.
We'd appreciate any 2021 tax-deductible donation to help us bring 2021 to a secure close and get us ready for amazing things in 2022.
or send a check to us at
Bridge Street Theatre
44 W. Bridge Street
Catskill, NY 12414
"COVID continues to create financial stresses for theaters as a big slice of audiences remain in their homes. As a result, most institutions are keeping their grandest artistic ambitions in check. That's not the case at the Bridge Street Theatre in Catskill." Joseph Dalton, Times Union
What a long, strange trip the past two years have been! We launched into 2020 with a hugely successful Gala Benefit Performance of Edmund Bagnell's HE PLAYS THE VIOLIN. A week later, four American First Ladies visited our newly re-christened Charles and Priscilla Patterson Mainstage in the person of actor Ginger Grace. Sadly, almost immediately afterwards, COVID-19 brought the curtain down on our 2020 Season.
But the cancellation of live performance didn't stop us in our tracks. During our enforced downtime in 2020, Bridge Street Theatre posted free archival performance videos (over 25 thus far), inaugurated a series of free online Bedtime Story readings featuring actor and co-founder Steven Patterson, and went online with two magnificent one-woman shows (Vivian Nesbitt's MOTHER JONES IN HEAVEN and Aizzah Fatima's DIRTY PAKI LINGERIE) that were taped live on our Mainstage. We also published "4 From Bridge Street", a beautifully illustrated volume of four of the brilliant plays which have received their world premieres at our small-but-mighty space. For details about all our 2020 activities visit BridgeSt.org/archives/2020-Season.
We also used this hiatus to make major, much-needed capital improvements to our physical plant. The ugly and potentially dangerous asphalt sidewalk in front of our theatre was completely replaced. We installed touchless fixtures in all our public restrooms, new air conditioning in our actor housing, and air purification units in our auditorium, along with upgrading the filtration on all our heating and cooling systems. And we installed solar panels on our roof to "go green" and lower our future electricity costs.
As 2021 began, and the pandemic continued to impact all our lives, we teamed up with Duke Dang and the Works & Process Series at the Guggenheim Museum in NYC to host a series of 11 bubble dance residencies between January and July. Free video excerpts of the works being developed were posted online, and many are still available for viewing on the Bridge Street Theatre YouTube channel. We resumed live performance in June with the return of Bridge Street Belly Dance, and filmmaker JD Urban has now transformed that event into a stunning concert documentary called BEFORE. Look for it on the film festival circuit soon! We then partnered with Catskill's Catwalk Institute to present a one-night concert preview of excerpts from a new musical featuring Charles Turner, and we teamed up with students and alumni from Catskill High to present THE ADDAMS FAMILY MUSICAL. In September, we resumed full production with three plays we'd originally scheduled for our 2020 Season: Fred Barton's hilarious MISS GULCH RETURNS! (which took home a Berkshire Theatre Critics Association Award for Outstanding Solo Performance), Samuel D. Hunter's poignant LEWISTON, Eugene O'Neill's searing masterwork LONG DAY'S JOURNEY INTO NIGHT, and then we finished the year with the rolling world premiere of Fat Knight Theatre's production of MY WITCH: THE MARGARET HAMILTON STORIES.
MISS GULCH RETURNS! by Fred Barton "I'm thrilled to report that Bridge Street Theatre is back in business and their passionate performances are once again looking to transport you over the rainbow." Patrick White, Nippertown

LEWISTON by Samuel D. Hunter "In their 2014 citation, the MacArthur Foundation praises Hunter's plays, which explore 'the human capacity for empathy and confront the socially isolating aspects of contemporary life across the American landscape.' Bridge Street Theatre's production of 'Lewiston' beautifully confirms this assessment." Barbara Waldinger, Berkshire On Stage

LONG DAY'S JOURNEY INTO NIGHT by Eugene O'Neill "Utterly absorbing, emotionally walloping … Thousands of perfect individual moments, glances, facial expressions, line deliveries and silences among the five-member cast combine over three hours to monumental cumulative effect … Like a broth simmered overnight, a well-crafted long play creates richness and depth that is almost impossible to achieve in a shorter time, and Bridge Street's production of O'Neill's magnum opus is the best example in recent memory." Steve Barnes, Times Union

MY WITCH: THE MARGARET HAMILTON STORIES by John Ahlin "Smart, sly, wickedly clever, richly subtle, robustly theatrical, sublimely warm, and richly satisfying." Jeffrey Borak, Berkshire Eagle
As you can see, COVID couldn't keep us down, though it did force us to adapt. Arts organizations nationwide continue to suffer the effects of the initial shutdown, and Bridge Street Theatre is certainly no exception. As new variants rear their heads, it's impossible to know what new challenges await us in 2022. And so, once again, we turn to you for a helping hand. If you're able, we hope you'll be willing to make a tax-deductible year-end contribution to help ensure our survival as a local cultural resource, support our return to full production, and help defray the costs of our continued capital improvements. Our aging façade needs shoring up and a new coat of paint; we hope to convert the one remaining unimproved portion of our complex into an ADA-approved housing unit which will allow us to bring more disabled artists to our stages; and we'd love to hire a new Managing Director to work alongside our Artistic and Associate Directors to help the theatre move into the future and grow into an ever more sustainable operation.
We've accomplished so, so much since opening our doors in 2014. If you've never given to Bridge Street Theatre before, we hope you will consider a gift this year in whatever amount you feel you can manage. If you have given before, please know how grateful we are for your contribution and for everything it has allowed us to accomplish thus far. We hope that you'll consider renewing your commitment this year, or even increasing your level of support.
Our little space has become increasingly acclaimed for both the quality of the work we present and as an incubator for magnificent new plays. Please help sustain the amazing entertainment you've come to expect whenever you walk through our doors. You can mail a check to Bridge Street Theatre, 44 W. Bridge Street, Catskill, NY 12414 or CLICK HERE to make a secure on-line donation. And thank you, in advance, for your continued patronage.
Sincerely,
John Sowle and Steven Patterson
Bridge Street Theatre is a 501(c)3 Corporation. All donations are tax-deductible to the fullest extent allowed by law.
Phone: 518-943-3894 Email: contact@BridgeSt.org Website: BridgeSt.org