Blue Horse Repertory Company
presents a special benefit performance
for Bridge Street Theatre
Three by Tennessee
Friday, June 5 @ 8 pm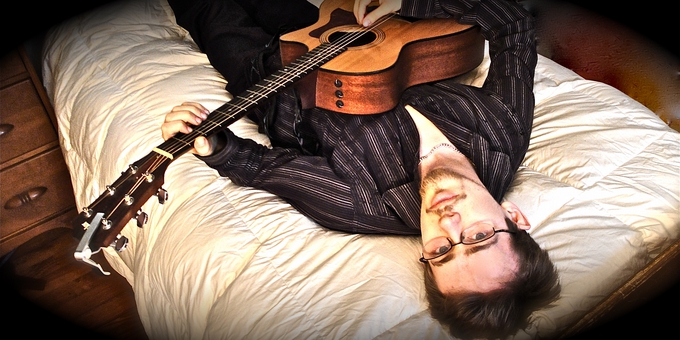 An Evening with
Jon B. Woodin
Saturday, June 6 @ 7:30 pm
Kaliyuga Arts presents
The First Show in the
Bridge Street Theatre Raw Space
THE EPIC OF GILGAMESH
Adapted and Performed by Steven Patterson
Directed and Designed by John Sowle
Two Weekends — June 11-21
Thursdays, Fridays and Saturdays @ 7:30 pm
Sundays @ 2:00 pm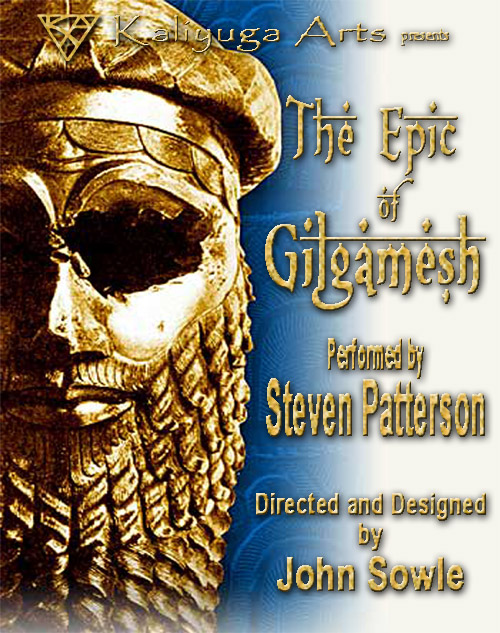 " … an awe-inspiring achievement … Patterson inhabits his characters distinctly, his quicksilver changes in physicality always making it clear who's being portrayed even if he's not speaking. His voice is a remarkable instrument, fully flexible and expressive from conspiratorial whisper to playful insinuation to battle-ready roar. And when Gilgamesh, overcome with grief at Enkidu's death, peels open his lips for a howl, he can't make a sound. He doesn't have to." – Steve Barnes, The Albany Times Union
Read the full review here.
"I have never seen anything so riveting, so powerful, so gut wrenching, so amazingly performed in all of my years of seeing theatre. I was shocked when there was an intermission. It felt like time stopped. … He is so marvelous, tender, threatening, graceful and articulate. I am so honored to have seen him perform." – Scarlett Smith
Saturday, June 27 @ 1 pm
A Workshop Production ofJUPITER by Superhero Clubhouse
JUPITER (a play about power), the eighth in a series of ecology-inspired Planet Plays, is a cross-disciplinary duet performance inspired by Frankenstein and energy policy.
Before retreating to the planet Jupiter, a young tycoon overhauls the entire energy system on Earth. His imposed vision promises to halt climate change, but demands costly sacrifices from all citizens of the world. As the tumultuous consequences of his actions unfold, the line between monster and man is blurred, and the question is raised: is it effective and ethical to force radical and immediate societal change for the sake of future climate stability?
JUPITER is created by Jonathan Camuzeaux, Lani Fu, Simón Adinia Hanukai, Megan McClain, Harry Poster, and Jeremy Pickard in collaboration with NYC-based environmental policy experts and climate scientists. JUPITER is a production of Superhero Clubhouse, a collective of artists and scientists working at the intersection of environmentalism and theater.
And
June 28 through August 29
Big Works in The Big Room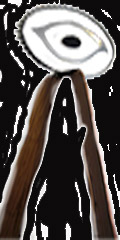 A Display of Large Scale Sculptures by
Matt Bua, Rita Dee, Jimmy Tim Fry, Chris Hawkins, Harry Matthews, Bob Schuler, Marc Swanson, Carol Swierzowski, and Richard Talcott
Opening Reception Sunday June 28 1 – 3 pm
Gallery open Saturdays 1 – 5 pm through August 29 and by appointment
Call 518-943-3818 for Information.
The Blue Horse Repertory Company is proud to present a special benefit performance for Kaliyuga Arts and Bridge Street Theatre "Three By Tennessee" A concert reading of three of Tennessee Williams masterful short plays, "The Frosted Glass Coffin," "Portrait of a Madonna" and "The Strangest Kind of Romance."
Performed by: Peggity Price*, James Shearwood*, Nancy Rothman*, Roger Hendricks Simon*, Lora Lee Ecobelli*, James Occhino* and Steven Patterson*

www.Bluehorserepertory.com.
*Members of Actors Equity Association.
Back in the Catskills after graduating from Hampshire College, this young artist is launching himself into the music scene full time with all new original songs and pieces ranging multiple genres. While mostly writing for guitar and vocals, Jon experiments with any instrument he can get his hands on and weaves them together to produce full one-man band arrangements, some examples of which can be heard on his first homemade album "The Dreamer" (available on
iTunes,
Amazon MP3 and
CD Baby), as well as his music video
"If You Want Me" on YouTube.
Jon is also a member of Wilber Forest, a rising band of talented musicians featuring Ezra Glatt, Jeremiah Cronin and Isaiah Brackman.
Jonathan Byron Woodin is a singer songwriter and multi-instrumentalist, most significantly inspired by the music of Gordon Lightfoot, Jim Croce and James Taylor. Jon's music combines their styles with a hint of traditional Celtic to create a sound that is both refreshingly original and heartbreakingly familiar.
Prior to college, Jon's musical performance experiences include playing as Principal Cello, Catskill Community Orchestra, 2008-2009. Hawthorne Valley Community Orchestra, 2004-2008. Hearts Content Trio, 2005-2009. Hawthorne Valley Coffeehouse performances, 2006-2007. Celtic Bands Sizzling Strings, Hawthorne Hoedown, Fiddleabout, Caryn Niedrighaus, director, 2003- 2009. Cello recitals, Hawthorne Valley School, 2000-2007. Jon has studied cello with Petia Kassarova and Hank Roberts, and is musically fluent on guitar, violoncello, concertina, keyboards, banjo, harmonica, electric and acoustic bass, and ukelele. He has taken vocal training with Jay Poughe of Palenville, New York.
Jon was in numerous theatrical productions appearing as Zeke in High School Musical, UpStage Productions, Hudson, New York, May 2008. The Music Man, Mac-Haydn Theatre, Chatham, New York, 2007. A Parable, The Two Jugs, The Chatham Players, Director Edgar Acevedo, October 2006. Fiddler on the Roof, Mac-Haydn Theatre, June- July, 2006 . Jafar, Aladdin, Mac-Haydn Theatre Children's Workshop, August, 6. Peter, Shadow, HRC Showcase Theatre, Hudson, New York, 11/26/05. Carousel, Mac-Haydn Theatre, June, 2005. Pirate King, The Pirates of Penzanze, Mac-Haydn Children's Theatre Workshop, August, 2005. Newsboy, Gypsy, Mac-Haydn Theatre, 6/04. Colin, The Secret Garden, Mac-Haydn Theatre, 8/7/03 -8/17/03. Dormouse, Alice in Wonderland, Mac-Haydn Childrens' Theatre, 2002. Jesus Christ Superstar, Mac-Haydn Theatre, August-September, 2001. "Little Georgie" Cohan, in Yankee Doodle Dandy, Mac-Haydn Theatre, June, 2001. "Freddy Rogers" in Will Rogers Follies, Mac-Haydn Theatre, August, 2000. The Music Man, Mac-Haydn Theatre, summer 1999. Mac-Haydn Children's Theatre Summer Workshops, 1999-2003, 2005- 2006.
Kaliyuga Arts presented a contemporary re-telling of the first great work of world literature, the ancient Babylonian poem THE EPIC OF GILGAMESH at Bridge Street Theatre, June 11-21, 2015. The production, directed and designed by John Sowle, features actor Steven Patterson in a virtuoso solo performance.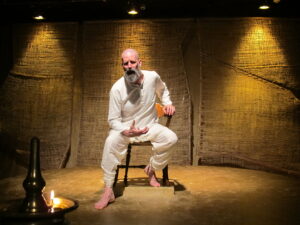 Steven Patterson – The Epic of Gilgamesh
A mythic "quest" narrative in the Homeric tradition, as well as an epic "bromance", GILGAMESH tells the story of a grief-stricken king who, after his best friend dies, goes on an odyssey to the ends of the earth in a desperate attempt to restore him to life. It also contains a tale of a Great Flood that closely parallels but pre-dates the biblical story of Noah. Given its timeless themes of competitiveness, friendship, hubris, loss, grief, and acceptance, this ancient story remains amazingly modern and deeply moving.
THE EPIC OF GILGAMESH was the first production in Bridge Street Theatre's "Raw Space," the area of the performing arts complex which will become the theatre's "Main Stage" once funds for its completion have been obtained. The production was funded in part by the Decentralization Program of the NYS Council on the Arts, administered in Greene County by the Greene County Council on the Arts through the Twin Counties Cultural Fund.