CASSE NOISETTE: A FAIRY BALLET by Michael Whistler
November 8-18, 2018
"Memorable and extraordinary, highly effective and moving, active and alive and intense, 'Casse Noisette' wins my heart thanks to five fine actors, an intensely visionary director, and a superbly talented playwright … The play may be a comedy, but death still rears back and kicks up more than once. But in a shot of optimism the play ends with fact and fiction blending into a far-reaching premise that is both satisfying and sad … There are days when viewing remarkable theater is exactly what you need. Or at least it's what I need. On Saturday November 10, I had just that sort of day." –  J. Peter Bergman, Berkshire Bright Focus
Click here to read the complete review.
"An ambitious, long and grandly imagined play getting an impressive world premiere at Bridge Street Theatre … Bridge Street co-founder John Sowle, whose direction is always reliably clear-eyed and astute, here seems inspired by 'Casse Noisette," bringing lyricism and generous sensitivity to what ultimately is a tragic story … Given how well it works in the world premiere, it's easy to imagine the play's potential if backed by the resources of Barrington Stage or even Broadway. That the world premiere of a quality play likely due for future acclaim would happen in a two-year-old, 84-seat theater in Catskill ought to be a source of pride for the company, the village and our region." – Steve Barnes, Albany Times Union
Click here to read the complete review.

Click here for more reviews and audience comments.
Click here for Press Releases and Hi-Res Press Photos
Click here for an interview with the playwright by Joseph Dalton of the Albany Times Union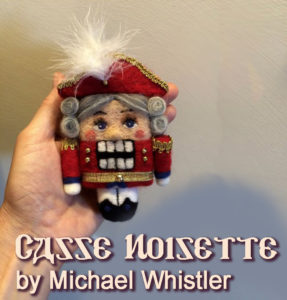 World Premiere!
A Spectacular World Premiere Closes Out the 2018 Season at Bridge Street Theatre
Catskill's intimate Bridge Street Theatre will close out its 2018 Subscription Season with a major coup: the world premiere of Philadelphia-based playwright Michael Whistler's brilliant, funny, and touching "Casse Noisette" (The Nutcracker). The play, described by its author as being about "a very quiet man and some very loud music", masterfully interweaves the life of Russian composer Pyotr Ilyich Tchaikovsky with that of a deeply-closeted modern-day American high school teacher obsessed with Tchaikovsky's music. Sugar Plum Fairies and phone sex workers collide, and five actors play eleven different roles in two completely different time periods, in this tale about discovering the strength to be true to one's self, whatever the cost.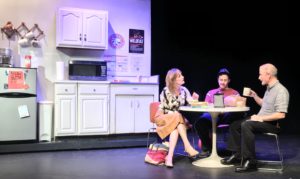 Pyotr Ilyich Tchaikovsky is a musical titan in 19th-Century Russia: hugely popular, incredibly charismatic, deeply emotional, mercurial, explosive. Tortured by his homosexuality, he finds release only in composing and in his love for the son of his invalid sister. Joe Jessup is a quiet, unassuming, and very private high school Earth Sciences teacher in suburban Washington state, a man who has long since resigned himself to not getting exactly what he might wish for out of life. For years, his only emotional outlet has been his love for the music of Tchaikovsky and, more recently, his furtive calls to a gay sex chatline – but merely to listen to the young man on the other end of the phone, never to speak himself. Actor Jason Guy, whom audiences may remember from his tour-de-force performance in Bridge Street's 2017 world premiere of Kieron Barry's "The Official Adventures of Kieron and Jade", portrays both these characters as their worlds intertwine and each struggles to find some sort of fulfillment in his life.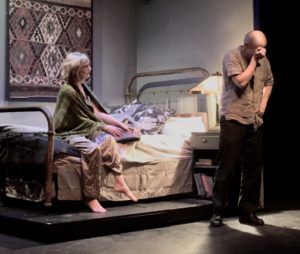 Please note that this production is for mature audiences only, for sexual situations and brief nudity.
Production of this world premiere has been underwritten in part by a generous gift from Charles Rosen and Duke Dang.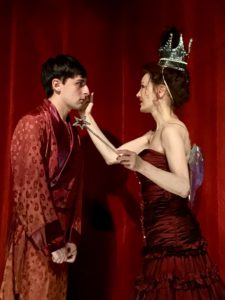 Directed and Designed by John Sowle
Costumes by Jennifer Andersen
Stage Manager – Julia Rothwax
With Jason Guy, Nancy O. Graham, Jason Kellerman, Serena Vesper, and Bradley Levine.
THE CAST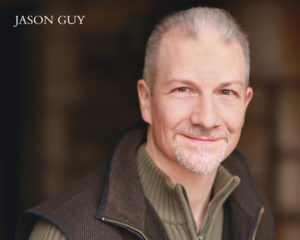 JASON GUY (Joe/Tchaikovsky) survived Bridge Street Theater's The Official Adventures of Kieron and Jade – barely – and yet has returned for more. He has suffered terribly in over 70 professional productions from Shakespeare to tap dancing – sometimes both at once. He was poisoned (as Hamlet) and beaten (Malvolio) with the National Shakespeare Co.; betrayed (Brutus) and beheaded (Buckingham) at the American Shakespeare Center's Blackfriars Playhouse; and flogged, twice, (as both Dromios) by the Hamptons Shakespeare Festival. Seeking solace in living playwrights, Mr Guy lost his faith in Doubt (Greenbrier), lost a finger in The 39 Steps (Arkansas Rep), and was vomited on in God of Carnage (Cape May Stage). Fearing it was all his scene partners' fault, Jason performed every role in Cortland Rep's I Am My Own Wife: sadly, it was the loneliest thing he's ever done. Turning to musicals in hopes of lighter fare, he was fired daily (42nd Street), punched repeatedly (West Side Story), and soaked nightly (Don Lockwood in Singin' in the Rain). Most recently he was lied to by the Barnstormers – as The Producers's Franz Liebkind, author of Springtime for Hitler. Jason was born in Michigan, grew up in Maine, and lives in New York City; but this litany of maltreatment has crossed four continents, fifteen countries, and all 50 States.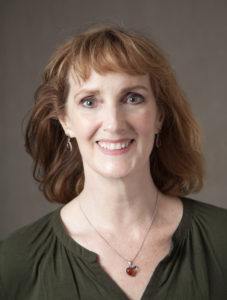 NANCY O. GRAHAM (Nancy/Dell'Era). Nancy's recent stage work includes Voice Theatre's productions of All My Sons and The Skin of Our Teeth in Woodstock, New York, and The Clean House by Sarah Ruhl at Threshold Stage Company in Kittery, Maine. Other favorite roles, all presented or shot in the Hudson Valley, include Hesione Hushabye in Heartbreak House, Sara Rosensweig in The Sisters Rosensweig, and Thea in Peter Ferland's web series, Pirate Birthday Party. She curates and performs in Cocoon Theatre's Soirée in the Parlor series in Poughkeepsie, for which she recently performed a devised work-in-progress inspired by A. S. Byatt's short story, "The Thing in the Forest," in collaboration with Jim Granger and Bridge Street regular Molly Parker-Myers. Her poems and short stories can be found by diligent searches of online journals, and in anthologies such as In|Filtration: An Anthology of Innovative Poetry from the Hudson River Valley, edited by Sam Truitt and Anne Gorrick for Station Hill Press of Barrytown, NY. A company member of the newly formed Paramount Theater Group in Peekskill, Nancy lives in Kingston, New York.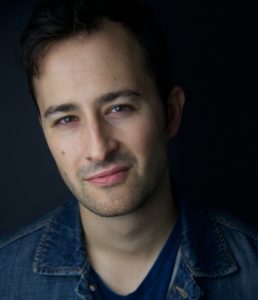 JASON KELLERMAN (Marc/Modeste) is thrilled to be making his debut with Bridge Street. Previous theatrical credits include Bad Jews (Theater Wit), The Last Night of Ballyhoo (Theater 891), Much Ado About Nothing (Michigan Shakespeare Festival) Tartuffe (Michigan Shakespeare Festival), A Midsummer Night's Dream (First Folio Theater) MacBeth (First Folio Theater), Soon I Will Be Invincible (LifeLine Theater), Romeo and Juliet (Teatro Vista), Taming of the Shrew (Muse of Fire Theater) and many others. Film credits: Hunter, Snatchers, Shiva Baby TV credits: Betrayal, Master of None. Bachelor's degree in Theater Performance At Northwestern University. He'd like to thank his friends family for their ever present support, and his Wife Alex for being the light of his life. www.jasonkellerman.com, www.hunterfilmchicago.com.
SERENA VESPER (Sasha/Sugar Plum Fairy). These roles are a fantasy come true.  Her childhood revolved around dancing in Pacific Northwest Ballet's Nutcracker with such Sugar Plum Fairies as Cynthia Gregory and Patricia McBride.  Since then, she's danced with Lyric Opera of Chicago, and acted all over the country.  Favorite regional roles include Maria in San Diego's Old Globe Theatre School for Scandal (with Paxton Whitehead), Vera in Drury Lane Oakbrook (Chicago)'s Ten Little Indians (with Deanna Dunagan), Liliane/ Juliette in Zev Buffman's production of Panic, Barbara in Florida Studio Theatre's Smoke and Mirrors, Ruth in Blithe Spirit (Southwest Shakespeare Co.), and Pamela in Fox on the Fairway (Lake Dillon Theatre, CO).  NYC roles include Maire in Translations (Irish Arts Center), and Tina in Ampersand (Riverside Stage Co., Off Broadway).  Feature film roles: Maggie / Happily After, Juliette / Getting Over.  Best Actress nomination from Midwest Independent Film Festival for European Kid.
BRADLEY LEVINE (Blaine/Bob) is thrilled to join this company and to be making his Bridge Street debut. He is based in NYC but is originally from the Hudson Valley. Recent theatre credits: The Boy in the Church (Regional tour; Theatre 54), Down the Urinal Hole & Around the Corner (Dixon Place; KC Fringe), Camp Rolling Hills (NYMF), Gathering Sparks (Exploriment Festival, Bangkok). He is the co-Founder of The Cult Next Door, an ensemble theatre company based in NY. Training: Bachelors in Acting from Pace University; The William Esper Studio; The Grotowski Institute in Poland. He'd like to thank his family, friends, and teachers for their continual support. IG: @bradley_levine  www.bradleyalevine.com.

THE PRODUCTION TEAM
MICHAEL WHISTLER (Playwright). Michael's plays include The F*ggot Museum (Theatre Off Jackson; Theatre Catalyst; Dixon Place); phidias8 (InterAct Theatre; Phoenix Theatre); Little Lamb (InterAct Theatre; 20/20 Commission for New Plays; winner Virginia Brown Martin Award); "I'm Barbara Eden" (Stageworks/Hudson; Riverside Theatre Company); Our Lady of Balenciaga (Philadelphia Theatre Workshop); "Quimper" (Stageworks/Hudson). For the Walnut Street Theatre in Philadelphia, he was commissioned to create both The Prescott Method (also produced at Arcadia University, as well as Studio Tisch, NYU); and Mickle Street: both received their world premieres in the Walnut Street Theatre's Studio 3. Casse Noisette was developed through the support of Studio Tisch, NYU. He is currently an Assistant Professor at Montgomery County Community College near Philadelphia, where he has created two iterations of Hidden Rivers, theatrical evenings of oral histories of the College's students and community members. Many thanks to Steven and John for their unwavering support, and my love always to Jamie.
JOHN SOWLE (Director/Designer) is Artistic and Managing Director of Bridge Street Theatre. He founded Kaliyuga Arts in 1986 with his partner Steven Patterson and has received multiple awards for his directing and design work on their Los Angeles, San Francisco and New York productions. He has directed and designed BST's productions of There Is a Happiness That Morning Is, Leni, Redwood Curtain, How to Pray, The Official Adventures of Kieron and Jade, Frankenstein: The Modern Prometheus, Holiday Memories, The Epic of Gilgamesh, The Killing & The Love Death (late plays of William Inge), and Grinder's Stand by Oakley Hall III, and designed their productions of The Tavern, The Effect of Gamma Rays on Man-in-the-Moon Marigolds, and Frankie & Johnny in the Clair de Lune. John has an undergraduate degree in mathematics from M.I.T and a PhD in Dramatic Art from UC Berkeley.
JENNIFER ANDERSON (Costumes). Jennifer has designed and worked in theatre, film, television, opera, dance, couture fashion, the music industry and private clients from Los Angeles to Minneapolis to New York to Cairo, Egypt. Currently based in New York, Jennifer operates the Etheric Design Studio and Costume House. She received her MFA from the University of California, Irvine where she was trained to emulate the design style and elements of the "Golden Age of Hollywood". Recent projects include: Ask For Jane, Soot & Spit: A Musical, It Came From Beyond, Wicked, Frozen.
JULIA ROTHWAX (Stage Manager), Julia most recently was Stage Manager for There Is a Happiness That Morning Is. She previously appeared as Mrs. Rudich in BST's production of David Mamet's The Revenge of the Space Pandas this past summer. During the previous summer, she performed as a refugee in Voice Theatre's production of The Skin of Our Teeth in Woodstock. She studies currently with the fabulous acting teachers, Seth Barrish and Lee Brock, at The Barrow Group in NYC. Stage Management is Julia's third "act" – her second being performing and her first as a political operative and campaign communications director for notable Democrats including Bill Clinton and Bill Bradley. Julia is also a Board Member of The Voice Theatre. She splits her time between Woodstock and Brooklyn, NY.