Four of the world-premiere plays that we've presented since we opened our doors in 2014.
The Letters by David Zellnik
Better by Michelle Carter
Casse Noisette by Michael Whistler
Thrice to Mine by Roxanne Fay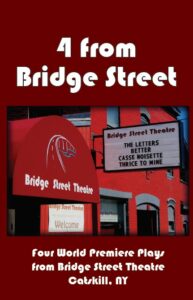 Price $20 + $3 Shipping and Handling for 1, $5 for 2 or more.
NY residents please add $1.60 per book for NY State Tax.
Email contact@BridgeSt.org to order and then send a check to
Bridge Street Theatre, 44 W. Bridge Street, Catskill, NY 12414.
Or click here to buy online.
(NOTE: If your shipping address is different from your billing address, send us an email with the address where you want the book sent.)
The Introduction
Well, this is new…
When we purchased a derelict factory building just outside downtown Catskill, NY, late in 2013, hoping to convert it into the first-ever permanent home for the productions we mount, probably the last thing we thought we'd ever be doing is publishing a play anthology. The COVID-19 pandemic, of necessity, fostered many strange byways for all of us in the Arts. We used the lockdown to launch capital improvements to our physical plant (New sidewalks! Solar panels on the roof!), provide studio space for a local sculptor preparing an exhibition of his work for MASS MoCA, broadcast a brace of live solo performances from our stage (without an audience), post free archival performance videos of many of our past productions online, inaugurate a series of YouTube readings of children's "bedtime stories," and host an amazing succession of dance residencies in our space.
Still, the heart of our mission here (and one we're jonesin' to get back to) is, and always has been, live theatre, with a particular emphasis on new and neglected works. The four plays contained in this volume, all of which had their first-ever productions at Bridge Street Theatre, are fairly representative of the wide range and variety of the work we present.
David Zellnik's The Letters is suffused with nostalgia for those post-college years when the world seems to be an endless font of possibilities. We first encountered David's work when he sent us his play Let A Hundred Flowers Bloom back during our Kaliyuga Arts days in San Francisco. We loved it, and while we didn't end up producing it, we've been following his career ever since. Perhaps best known as the book-writer and lyricist for the Off-Broadway hit musical YANK!, he's also the author of one of the most magnificent unproduced works we know, Ariel Sharon Stands at the Temple Mount and Dreams of Theodor Herzl. Would that our modest little space had the capacity (and the means) to mount it! There's an ache at the heart of The Letters that we responded to immediately, we fought like hell for two years to score the world premiere, and are beyond fortunate to have landed it. Occasionally persistence pays off.
Michelle Carter's Better handles an extremely serious subject in a charmingly off-beat and disarming fashion. It's a funny, deeply human, and startlingly original examination of how we as citizens (and family members) try to reconcile with the barbarism around and within us. While we'd been aware of Michelle's work for a long time, it wasn't until Steven was cast in the world premiere of her play How To Pray at Centenary Stage Company in Hackettstown, NJ, that we truly connected. We mounted an extremely successful new production of How To Pray At BST during our 2017 Season, and on its heels, she sent us the manuscript for this new piece. Like How To Pray, Better deals with a divisive and potentially controversial topic, but does so with such wit, such empathy, and such a light touch that it sneaks right past an audiences' conditioned responses. It's hilarious and, ultimately, heartbreaking.
Michael Whistler's Casse Noisette: A Fairy Ballet is a whole other box o' sugar plums. We'd collaborated with Michael before on an exquisite, enigmatic little ten-minute play of his called Quimper (which John directed and Steven performed) as part of Stageworks/Hudson's annual "Play By Play" Festival back in 2012. We flipped when he first shared the script of Casse Noisette with us, and loved its 2013 Studio Tisch workshop reading at NYU, but, in the end, felt that its very real production demands put it out of our weight class. Then, during the early planning stages for our 2018 Season, we wound up with a big empty slot that we REALLY wanted to fill with a world premiere. Casse Noisette was still languishing, unproduced. We re-read the script, fell in love with it all over again, and decided that, considering how much lip service we always give to taking risks and going for broke, it was time for us to put up or shut up. And, boy, are we glad we did! It's a total charmer – Masterpiece Theatre arm-wrestles William Inge, with a few handfuls of fairy dust tossed in for good measure.
Then there's Roxanne Fay's Thrice To Mine, a one-woman tour-de-force that reclaims the history of the real "Lady Macbeth" from Shakespeare's imaginative clutches. We presented its world premiere in rotating rep (another first for us) with an additional solo show – Gareth Armstrong's Shylock – as part of a double-bill we called "…And Every Tale Condemns Me For A Villain". As both an actor and a playwright, Roxanne has been a favorite with Bridge Street Theatre's audiences almost from the beginning. Her solo performances have been a mainstay in our repertory, and she's played numerous leading roles on our Mainstage. We also happened to write a sterling letter of recommendation for her when she applied for a 2016 Writing Residency at Hawthornden Castle in Lasswade, Scotland, a stint which ultimately led to the creation of the play we've published here. Epic and earthy and very Game of Thrones, Thrice To Mine takes a familiar character and makes you reconsider her in an entirely new and different light.
There's one additional world premiere work that we presented during our 2017 Season which we would love to have included in this anthology. But Kieron Barry's mind-blowing meta-theatrical Chinese puzzle of a play The Official Adventures of Kieron & Jade is currently under option for potential development as a series for televison and is also under consideration for a second production at a major U.S. theatre which, should it occur, will make the script eligible for publication and licensing by Samuel French/Concord Theatricals. From the little acorn…perhaps we'll be free to include it in Volume Two!
As diverse as the works in this volume are, there's one thing they all have in common: you CARE about the people in them. Each of these characters are yearning and striving (whether they succeed or fail) for some kind of human connection. THAT's the type of theatre that matters most to us. If there's one lesson the pandemic has taught us, it's that new work is "the very lifeblood of our enterprise", and we'll be returning to it with an added focus and a renewed commitment once all this is over. Our biggest wish? That other theatres discover this anthology, encounter these remarkable plays, and grant them the long life of future productions they so richly deserve.
John Sowle & Steven Patterson
Co-Founders of Bridge Street Theatre