To our Patrons and Friends
John and Steven here, mostly hanging out at home and heading into the theatre every couple of days to pick up the mail to make sure everything's OK there. It's been sad and eerie to have our little gem of a theatre space sitting idle and empty, and we can't wait for the day it's safe for us to gather and share stories together once again. Till then, we just want to update you (as fully as we can) on where things stand at the moment.
As many of you are aware, we needed to cancel all the events we had scheduled during the month of March, though several of those have already been re-scheduled for later in the year. And given the uncertainty regarding when it will again be safe for us to open our doors, all of our programming is being put in suspension until at least the end of May.
Sadly, this means we've had to cancel what would have been the opening production in our 2020 "American Roots" Season, Audrey Cefaly's MAYTAG VIRGIN. Unfortunately we weren't able to find an open space on our production calendar this year when our dream cast, Joel Bryant and Kay Capasso, whom we were flying out from Los Angeles. and dream director, Patrick White, would all be free simultaneously. We're now hoping that same production team will be able to open our 2021 Season.
We're keeping our fingers crossed that the second show, Samuel D. Hunter's LEWISTON, currently slated to open on May 28th, will be able to go on as scheduled, but currently negotiating availability with that show's production team in the event that it needs to be postponed till later in the year. For those of you who've already purchased 2020 Season Tickets, rest assured that we're considering all kinds of options to make certain you're still gonna get your money's worth! If you haven't already purchased a 2020 Season Subscription and are up for taking a chance on us, it would certainly help our bottom line just now. Click here for details.
As the situation with the virus continues to evolve, so must our plans for the future. Our performance schedule will undoubtedly change radically, some originally scheduled events will need to be dropped and others shifted around as open dates on our calendar shrink. Please continue to check in to our Facebook page and our website at BridgeStreetTheatre.com for all the latest developments.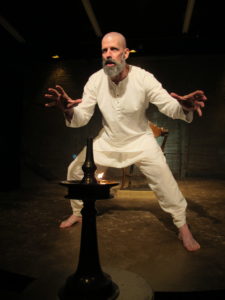 In the interim, rest assured that we're brainstorming all kinds of ways we can stay connected with you in our respective isolations. As a kick-off, here's a copy of the archival video of our 2015 production of THE EPIC OF GILGAMESH for you to enjoy at your leisure. This ancient saga has so many things to say to us about love, friendship, loss, grief, and acceptance during this particularly unsettling time. Click here to view.
This is a difficult time for everyone and certainly for small Arts organizations like ours. We're taking this one day at a time. Thanks for your continued support. We'll be back the moment we feel we can safely resume performances here in Catskill.
If you have any questions, concerns, or suggestions, feel free to contact us by email (contact@bridgest.org) or phone (518-943-3894). Thanks for your continued support.
Stay safe, well, and happy. We miss you all and anxiously await the day when we can see you again face-to-face.
John & Steven
Bridge Street Theatre