Charles Busch IS Lucille Ball
in a Gala Benefit Concert Staging of
I LOVED LUCY by Lee Tannen
also starring Lee Tannen as … Himself
and featuring Tom Judson
Directed by Carl Andress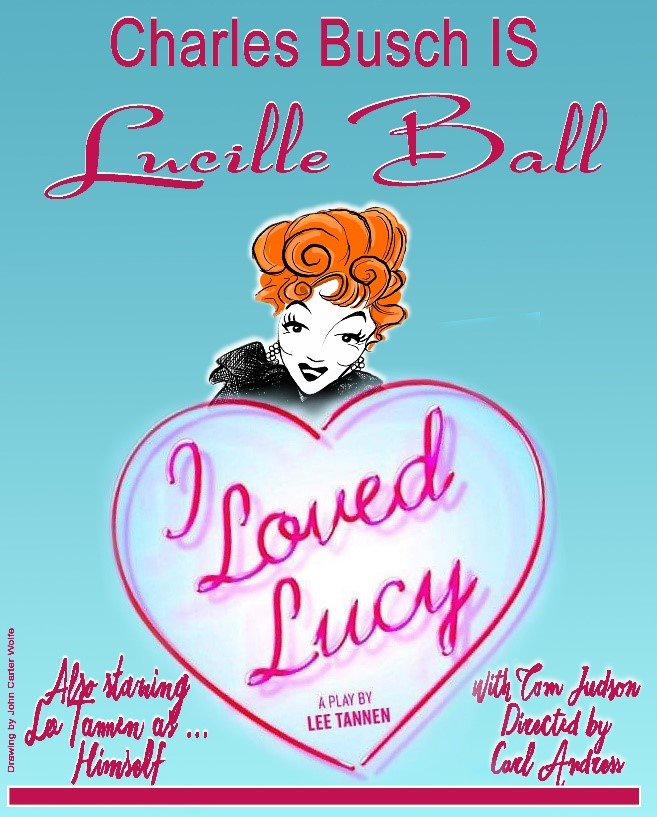 Friday March 22, 2019 @ 7:30 pm
Performance Only
Saturday March 23, 2019 @ 6:30 pm start, 7:30 pm performance
Catered Reception, Performance, Meet & Greet with Performers
Area audiences are in for a rare treat when theatrical legend Charles Busch and playwright/performer Lee Tannen team up for a special two-performance concert staging of Tannen's 'I Loved Lucy' on Friday March 22 and Saturday March 23 as a benefit for Catskill's Bridge Street Theatre. This delightful stage adaptation of Tannen's own 2001 memoir, directed by Carl Andress, stars the fabulous Charles Busch as Lucille Ball, Lee Tannen as Himself, and also features the multitudinous talents of actor/pianist Tom Judson.

Few people knew America's comic sweetheart Lucille Ball the way Lee Tannen did. He first met Lucy as a child but cemented their close and enduring relationship as an adult when he acted as confidant and traveling companion to her during the last ten years of her life. "The play is drawn solely from memory," says Tannen, "a remembrance of a time in my life spent with a remarkable woman at the end of hers. It's a loving and candid Valentine to my very own Auntie Mame." 'I Loved Lucy' is an intimate and personal portrait of Lucille Ball as you've never seen or known her before, one that will only add to your own love of Lucy.

"Charles Busch has been one of Bridge Street Theatre's angels and an avid supporter from the very beginning," says BST Artistic Director John Sowle. "Each of his previous appearances here in Catskill – 'The Lady at the Mic', 'My Kinda '60s', and 'Native New Yorker' – have been sold-out smash hits. When Lee approached us about the possibility of staging 'I Loved Lucy' here with Charles in the title role – well, it was a no-brainer. Let's face it – nobody's going to want to miss seeing Charles Busch, fully coifed and costumed, as Lucille Ball!"

This special benefit concert staging will be presented for two performances only. Tickets to the Friday night performance on March 22 at 7:30pm are $50, $40 for 2019 BST Season Subscribers. The Gala Performance on Saturday March 23 begins at 6:30pm with a catered reception, followed by the performance at 7:30pm and a meet and greet with the performers after the show. Gala tickets are $100, $80 for 2019 BST Season Subscribers. To make reservations (a must – these performances will sell out FAST), visit ILovedLucy.brownpapertickets.com or call 800-838-3006.
Bios:

CHARLES BUSCH (Lucille Ball) is the author and star of such plays as "The Divine Sister", "The Lady in Question", "Red Scare on Sunset", "The Tribute Artist", and "Vampire Lesbians of Sodom" (one of the longest running plays in the history of Off-Broadway). His play "The Tale of the Allergist's Wife"
ran for 777 performances on Broadway, won the Outer Critics' Circle's John L. Gassner Award for playwriting, received a Tony nomination for Best Play and is the longest running Broadway comedy of the past twenty-five years. He wrote and starred in the film versions of his plays, "Psycho Beach Party" and "Die, Mommie, Die!", the latter of which won him the Best Performance Award at the Sundance Film Festival. For two seasons, he appeared as Nat Ginzburg on the HBO series "OZ" and is the author of the auto-biographical novel "Whores of Lost Atlantis". In 2003, Mr. Busch received a special Drama Desk Award for career achievement as both performer and
playwright and was given a star on the Playwrights Walk outside the Lucille Lortel Theatre. He is also the subject of the acclaimed documentary film "The Lady in Question is Charles Busch". He is a two-time MAC award winner and has performed his cabaret acts in many cities including San Francisco, Los Angeles, Chicago, New Orleans, Philadelphia, London, Paris, Barcelona and in New York City. In the winter of 2016, his show "The Lady at the Mic" premiered as part of Jazz at Lincoln Center's American Songbook series, and his "My Kinda '60s" (2018) and "Native New Yorker" (2019) both premiered at Feinstein's/54 Below (but you saw all three here at Bridge Street Theatre first).  His first CD, "Charles Busch Live at Feinstein's/54 Below", has recently been released by broadwayrecords. charlesbusch.com        

LEE TANNEN (Playwright/Lee Tannen) Lee began his career as a creative director for a theatrical advertising agency where he wrote commercials for scores of Broadway shows as well as for the prestigious Radio City Music Hall. In 2011 Lee adapted his bestselling memoir "I Loved Lucy", based on his close friendship with Lucille Ball, for the stage where it had its world premiere at The Laguna Playhouse.  Since then it has received three critically acclaimed productions in London including an extended run on the West End.  Lee's other credits include a new libretto for the stage adaptation of the classic children's story "Dr. Dolittle" starring and directed by ten-time Tony Award winner Tommy Tune.  Lee was also a contributing writer for the Drama Desk-nominated musical  "The Audience" produced by New York City's prestigious Transport Group.  As writer and Associate Director of "Paparazzi", he once again collaborated with Mr. Tune on an original multimedia musical extravaganza created for Holland America Lines.  His concert work includes writing and directing "All The World's A Stage", a star-studded benefit at Carnegie Hall.  Lee is very proud and honored to present this special and unique version of "I Loved Lucy" at the Bridge Street Theatre.

TOM JUDSON (Narrator/Musical Director)has appeared on Broadway in the Roundabout Theater production of "Cabaret" at Studio 54. He toured the country in that show and in "42nd Street". He composed the score to Whit Stillman's indie film classic "Metropolitan" and has written songs for "Sesame Street", Ann Magnuson, Lisa Kron, and many others. Tom is also an author ("Laid Bare"), magazine columnist, and Huffington Post contributor.

CARL ANDRESS (Director) Carl's directing credits include critically acclaimed world premieres written by and starring Charles Busch including "The Divine Sister", "The Tribute Artist", "Shanghai Moon", "The Third Story", "Judith of Bethulia", "Cleopatra" and the New York premiere of "Die, Mommie, Die!" Additional credits include Carmen Pelaez's "FAKE" and "Rum & Coke", Tim Pinckney's "Still at Risk", Douglas Carter Beane's "The Cartells", Joe Godfrey's "Romance Language", the world premiere of "Who's Holiday!" at the Westside Theater, regional productions of "My Fair Lady", Paul Rudnick's "I Hate Hamlet", as well as "The Tale of the Allergist's Wife" and "Crush the Infamous Thing" at the Coconut Grove Playhouse. Carl staged the NY concert premieres of "The Visit", "A Wonderful Life", "Mr. Magoo's Christmas Carol", "Hollywood Nurses" and "Valley of the Dolls". all benefitting The Actors Fund, as well as productions of "Tenderloin", "Harold & Maude", "I Love My Wife" and "The Mad Show" for the York Theatre's 'Musicals in Mufti', and "Here's to the Girls!" and "Being Comden & Green" for the 92Y's 'Lyrics and Lyricists' series. carlandress.com