Fourteen Funerals
by Eric Pfeffinger (East Coast Premiere)
with
Montana Lampert Hoover
Haley Wong
Directed by Sara Lampert Hoover
Sets Lights by John Sowle
Costumes by Alexis Costa
Artwork by Agam Neiman
Production Stage Manager: Sarah Foster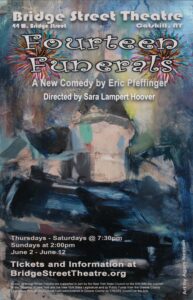 "There is some kind of alchemical magic working in Catskill where Eric Pfeffinger's 'Fourteen Funerals' is concluding its East Coast premiere at Bridge Street Theatre … A lovely, winning gem of a show that can easily make you smile through your tears … Delightful, creative and engaging performances … 'Fourteen Funerals' will make you feel life is precious in all its crazy detail." Patrick White, Nippertown COMPLETE REVIEW HERE

"'Fourteen Funerals' is being given an East Coast premiere at Bridge Street Theater that more than takes the measure of Pfeffinger's savvy material … A gentle (albeit at times, sublimely antic), enormously insightful comedy about coming home, even if it's a home you never knew you had; about finding that one still point in a rapidly turning world; about how we are seen, by ourselves, by others; about just being seen … Pfeffinger has created two vivid, individualistic, likable characters and allows them to speak for themselves. So does director Sarah Lampert Hoover in a production that is smoothly staged and adroitly performed. The conversation is natural. Laughs come in ways one doesn't always expect … Nice. Very nice." Jeffrey Borak, Berkshire Eagle COMPLETE REVIEW HERE
"The joy-ride of a lifetime … The first thing you really need to know is that this comedy is actually funny. It is a tongue-in-cheek laugher with a sense of human strengths and failings. It's a shooting match without guns, a tours-de-force (plural) of oddness and secrecy … Montana Lampert Hoover does some remarkable acting under the direction of her mother Sara Lampert Hoover. Hoover masters nervousness with the same intensity with which she plays love scenes, historical lectures, and moral judgements. She plays fear as effectively as she plays compassion. She also plays these human qualities back-to-back without batting an eyelash … Haley Wong understands passion, anger and disbelief and she plays these elements in constantly changing order without ever missing a beat. Wong is a wonderful Sienna. She has amazing abilities in the physical and the verbal arts … Nothing short of remarkable. Wonderful work all the way around." J. Peter Bergman, Berkshire Edge COMPLETE REVIEW HERE

"A beautifully textured script – a humorous and compassionate series of conversations and eulogies laced with witticisms and humanity … The performances are deeply emotional and touching … A comic and provocative production." Macey Levin, BerkshireOnStage COMPLETE REVIEW HERE
"Team Sienna or Team Millie: whose side are you on? … 'Fourteen Funerals' is well-written, and the portrayals by Hoover and Wong are spot-on. The story starts out with one funny one-liner after another, gradually building tension without diminishing humor … Surround-sound during the performance, and somber funeral music playing in the lobby as we waited for the house to open, were delicious additions to the experience … If only every funeral was as much fun as these fourteen!" Andrew Andrews, Opplaud COMPLETE REVIEW HERE

After a mysterious phone call draws bi-racial Chicago girl Sienna to rural Blissfield, Indiana, the small town her now-deceased parents fled while she was still a toddler, she's shocked to discover that a freak fireworks accident has carried off every single member of the estranged extended family she's never really known. Even more shocking is that, as the very last of the Fitchwoods, she's expected to deliver separate eulogies for every single one of them. But most shocking of all might be the totally unexpected friendship that she stumbles into with Millie, the strangely perky receptionist at Blissfield's Martin Mortuary.
Eric Pfeffinger is a playwright in Ohio who grew up in Indiana and likes to work in Chicago. He enjoys a robust Midwestern humility. His work has been produced by Actors Theater of Louisville's Humana Festival of New American Plays, the Denver Theatre Center, the Geva Theater Center, the Phoenix Theatre, and the Bloomington Playwrights Project. His plays include "Accidental Rapture", "Hunting High", "Some Other Kind of Person", "Barrenness", "Assholes and Aureoles", "Malignance", and the plays for young audiences "Lost and Foundling" and "The Day John Henry Came to School". "Fourteen Funerals" received its world premiere this past February at Butterfly Effect Theatre Company in Boulder, CO.
Bios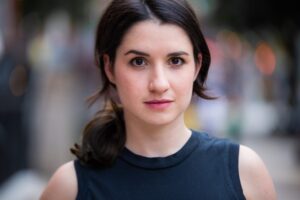 Montana Lampert Hoover (Millie)
is thrilled to be back, for the 3rd time, at The Bridge Street Theatre! Recent credits include:
Lewiston
(BST),
Pathway to the Ballot Box
(Historic Huguenot St.),
Better
(BST),
In the Parlour
(American Slavery Project),
The F%@#ing Wright Brothers
(NY Fringe),
Dry Land
(Arts on Site),
Double Falsehood
(Letter of Marque),
Hand To God
(Kitchen Theatre Company). Much love to Sock and Buskin.
www.montanalamperthoover.com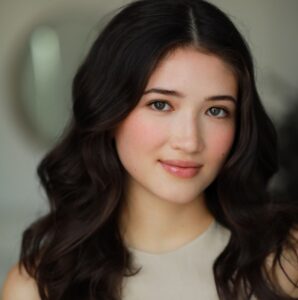 Haley Wong (Sienna) is a New York City based actor from Hong Kong. She is a recent graduate from Brown University, where she earned a BA in Theatre Arts and Performance Studies. Some favorite theatre credits during her time there include The Wolves (#14), Antony + Cleopatra (Cleopatra), and Mary Gets Hers (Mary). Film credits include Invited In (New York Asian Film Festival) and Overbite (Ivy Film Festival). She is so excited to join the Bridge Street Theatre cast of Fourteen Funerals!
Sara Lampert Hoover (Director) Bridge St. Theatre: Lewiston, Better, Frankie & Johnny In The Claire du Lune. American Slavery Project: Throw Pitchfork. Geva Theatre Center: Dancing Lessons, Black Pearl Sings!. Kitchen Theater Co: Bright Half Life, Throw Pitchfork, Peter and the Starcatcher, Dancing Lessons, Black Pearl Sings! Neat, The Tricky Part, Souvenir – 2008 SALT Award "Best Summer Production", The Clean House, Yellowman, Precious Nonsense, The Syringa Tree, A Servant of Two Masters, Crumbs from the Table of Joy, Pretty Fire, and Molly Sweeney. Vermont Stage Co: Three Days of Rain, Doubt, I Am My Own Wife. Other directing credits: Falsettos, Sweeney Todd, Proof, 4 by Beckett, Side Man, The Insect Comedy, The Gnadiges Fraulein. Assistant directing credits: Sight Unseen (Manhattan Theatre Club, Daniel Sullivan, Director) and The Dybbuk (Syracuse Stage, Barbara Damashek, Director. Member: SDC.