Sean "The Prankster" Magician presents a
Family Magic Extravaganza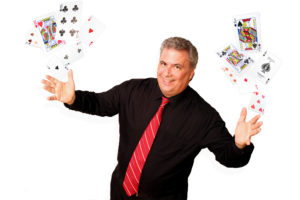 Sean Doolan was born to perform he just didn't realize it until age 47 when he had a mid life refocus and decided to transition from a trial lawyer to a full time professional magician.   Six years and hundreds of shows later his transition is complete.  Come see Sean perform his comedy family magic show as he weaves his story of going from a novice magician to his first stage show.  He will share his stories of traveling the world, Germany, France, England, Scotland, Spain, Ohio, and Las Vegas to learn the art of magic from the best magicians.
Saturday March 30 at 2:00pm
Tickets are $10, $5 for 12 and under.
Tickets at the door only.
Suitable for kids 5 years and older.