Announcing Equity and Non-Equity local auditions for THE SHAGGS: PHILOSOPHY OF THE WORLD.
Saturday, April 13 from 10-3 at the Theatre, 44 W. Bridge Street, Catskill.
THE SHAGGS: PHILOSOPHY OF THE WORLD
Book and Lyrics by Joy Gregory
Music by Gunnar Madsen
July 11 – July 21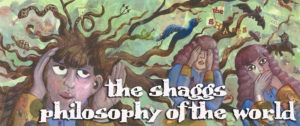 In rural New Hampshire in the late 1960s, a working-class dad has a vision of rock n' roll stardom for his three talentless high-school-aged daughters, convinced they're his family's one-way ticket out of poverty.  But his girls have other ideas, and when his ambition turns into an obsession, the price of familial love and obligation becomes all too clear.
"The Shaggs" is a captivating and bravely off-kilter new musical that locates sweet harmony in probably the worst rock band of all time. Based on a true story.
Local vocal auditions are at Bridge Street Theatre, 44 W. Bridge Street, Catskill on Saturday, April 13 from 10 to 3. Doors will open at 9:30, first come, first served. Bring a printed picture and resume if you can. Bring sheet music, a music track on a phone or tablet, or just sing A Capella. What you sing should show your vocal range.
Equity contract is Special Appearance, details on the Equity web site. Non-Equity performers will receive $200 a week stipend.
Rehearsals begin June 18, Tuesdays through Sundays, 5-9 pm, performances are July 11-21, Thursdays thru Saturdays at 7:30, Sundays at 2.
Already cast:
Austin Wiggin: The Shaggs' father. Possessed by a vision. A cross between King Lear and Mama Rose. (Steven Patterson)
Annie Wiggin: Austin's wife and The Shaggs' mother. A housewife, trying her best but beaten down. (Molly Parker Myers)
Casting:
Dorothy "Dot" Wiggin: Austin and Annie's oldest daughter. A good girl who follows the rules. Eager for her father's affection, and mostly overlooked. Lead guitar and lead vocals for The Shaggs.  Mezzo F to E flat. Requires skill with close-harmony A Capella singing.
Betty Wiggin: The second oldest daughter. Much more of a rebel than Dot, chafing against her father's authority and the confines of the small town in which they live. Rhythm guitar and vocals for The Shaggs. Soprano G to E. Requires skill with close-harmony A Capella singing.
Helen Wiggin: The youngest daughter. Her father's favorite but confused about who she is and where she might fit in the world. Drummer for The Shaggs. Sometimes mute by choice. Alto B flat to C sharp. Requires skill with close-harmony A Capella singing.
Kyle Nelson: A Fremont High School student. Loves vintage Blues recordings. A classic nerd. Dates, and later marries, Helen on the sly. Winds up a Vietnam vet (missing an arm) and a firefighter in Fremont, New Hampshire. Tenor C to G.
Charley Dreyer/Bobby Herne/Lenny Smalls: Charley is sole proprietor of Third World Records – either a visionary or a huckster. Bobby is a recording engineer at Fleetwood Studios. Lenny is a Fremont HS student – somewhat of a delinquent and probably a future soldier. Bari-Tenor G to B flat.
Mr. Wilson/Floyd/Russ Hamm/Exeter Talent Show Host/Hank: Mr. Wilson is an English Literature teacher and guidance counselor at Fremont High School. Floyd runs the Fremont Town Hall where The Shaggs play weekly gigs. Russ Hamm is the senior recording engineer at Fleetwood Studios. Exeter Talent Show Host is an enthusiastic (if fairly lame) emcee. Hank is a firefighter in Fremont, New Hampshire.  Bass-baritone