Entertainer Charles Busch looks back on his life in 'Native New Yorker' at Bridge Street Theatre in Catskill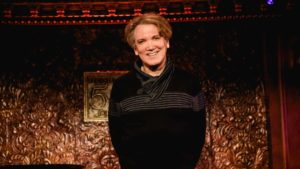 CATSKILL, N.Y. — Playwright, actor, director and cabaret artist Charles Busch chronicles his struggle to find his place in the theater world in New York City in his latest cabaret performance, "Native New Yorker," at the Bridge Street Theatre on Sunday, Jan. 27.
"It's really about my life in the 1970s," Busch said.
Busch said this performance is a follow-up to a show about his childhood and adolescence in the 1960s he did previously with his musical director, arranger and pianist Todd Tom Judson, who lives in Catskill.
"I really enjoyed doing it," Busch said. "It brought me to another level of cabaret performance."
So it only felt natural to continue the story into the 1970s, he added.
"It was an even more fascinating chapter in my life, Busch said. "During that period, I went from college at Northwestern through my 10 years of struggle trying to find a place for myself in the theater, and figuring out how I was going to pursue this."
Busch said Sunday's show finishes with the opening night of his first big break, "Vampire Lesbians of Sodom" off Broadway.
"It was a surprise hit," he said.
Busch also said they originally envisioned this production as a "wacky play" they'd do for perhaps one weekend at an art gallery in Manhattan's Lower East Said.
"We produced it ourselves," he said. "It miraculously took off."
It moved to the Provincetown Playhouse and ended up running five years, according to Busch.
"The play got a rave review in The New York Times. It established me as a playwright and actor," Busch said. "I could earn my living in the theater and that was my big dream."
During this journey, he added, he discovered what he did best, which was writing his own material and creating a career that wasn't like anyone else's.
But he had to take a bunch of odd jobs before he got there.  Busch described this part of his life as a long rocky road.
"I was a receptionist in a zipper factory. I sold hot typewriter ribbons on the telephone," Busch said.
He said he later capitalized on his drawing skills by working as a quick sketch portrait artists. He worked for an agency Rent a Witch, which usually traded in booking tarot card readers, among other things.
"But they sent me out to weddings, bar mitzvahs to draw psychic portraits, which meant that I drew you as you were in your previous life," Busch said.
Busch said he plans to tell this story through a mix of storytelling and a mix of songs from 1970s theater, film and pop music.  These included 1970s hits like "Touch Me in the Morning," the disco song "Native New Yorker" and Jim Croce's hit "I Got a Name," along with Broadway favorites from theater legends Stephen Sondheim and Rubert Holmes.
Busch said he never changes the lyrics of a song, but he gives it a treatment that makes it more "theatrical and dramatic." He also said he's taken a real liking to cabaret in the several years he's staged it in 25 different cities across four continents.
"They're different from when I do a regular play," Busch said. "This really allows me to be very intimate with the audience and as authentic as possible."
Instead of playing a role, he added, he seeks to be a heightened version of himself.
"I try to be as honest as possible," Busch said. "It sounds a little cliche, but it's almost as if you're in my living room, and I'm dominating the party and doing all the talking."
Busch is no stranger to Bridge Street Theatre, as he's performed there two times before. "It's a charming little theater," he said. "We've used it in a way as a tryout place for our cabaret shows."
While the venue itself is tiny, the audience is always sophisticated and enthusiastic, Busch said.  "It's so intimate. There's a feeling of warmth and almost family."
Busch said this show will serve as a bit of a preview for a new program he's opening in February at Feinstein's 54 Below, a nightspot at 254 W. 54th St. in Manhattan. Busch added that he prefers to test out shows outside of New York City, and Catskill fits the bill.
"It's too terrifying to open a show cold in New York you've never done before," he said.
Busch also said he's worked on new songs over the course of the last four months and he inserts them in his old shows one at a time.
"What I never want to do is face any audience with all new material at once. My nerves could never take it," Busch said. "By the time we put together the whole show for Bridge Street, I will have sung each song separately at places, but never all together."
While many comedians and late night TV show hosts make their living lampooning politicians and current events, Busch said that's not for him. "I was never a contemporary commentator," he said. "That was never my style or interest."
Busch said he prefers to base his plays, 99 percent of which are comedies, on his love for classic film.
"I grew up loving old movies on television," he said.
And that filtered into his work.
"I became well-known for playing the female leading characters in my plays who evoked the great actresses from the 1930s and 1940s," he said. "I spent many years performing in drag playing these female characters."
He added that, these days, he finds it refreshing to be himself in a cabaret act instead of playing a character.
"Though I'm very rehearsed, I like to give the illusion I'm making up the show on the spot," Busch said. "I want the audience to feel as I'm chatting with them and telling my stories."
He shared his thoughts on writing.
"Everything you write is somehow personal. Any creative effort can be interpreted like a dream," he said. "It comes from somewhere personal, whether you know it not. "Everything I ever did, even something as zany as 'Vampire Lesbian,' if I examined, it there's an autobiographical core."
That creative thought comes from a deep place, he added. "It's nobody's job to search for it."
But, even as Busch has realized his dream, he's never been able to stop looking for work entirely. When you finish a play or movie you're out of work, and then you're thrown into a new situation with a new work family, he said.
"Fortunately for me, I was a writer," Busch said. "I've always generated my own work.
"I've been so fortunate for the past 40 years to keep going."