We continue our series of dance residencies into early July.
If you're not getting our regular emails, sign up HERE to get links to all the free videos coming up.
For our Winter Dance Residencies, with links to all the video excerpts, CLICK HERE.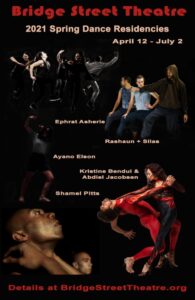 April 12-18
Abdiel Jacobsen and Kristine Bendul
Video excerpt premiere Friday, April 23 @ 7:00pm EDT
CLICK HERE TO VIEW.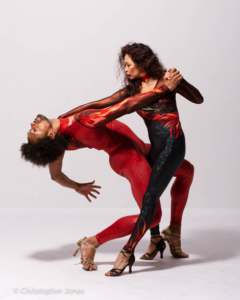 Traditionally, ballroom dancing has had a fairly inflexible view of gender performance, one which Bendul and Jacobsen are eager to challenge. The pair both perform in high heels, organically alternating leading and following roles several times during the course of a routine. For many, it's an entirely new way of seeing partnered dancing – not as male/female, not as man/woman, but as pure energy, pure expression. Both are people of color as well, dancing in an arena that has previously been overwhelmingly white. For these and other reasons, they feel that trying to expand these entrenched attitudes is important – even critical – and that now is definitely the time to make the attempt. As Jacobsen says, "The future is fluid."
Kristine Bendul and Abdiel Jacobsen will be in residence at Bridge Street Theatre from April 12-18, 2021. During their stay, director Brian Thomas and producer Brian Rubiano will be filming their work-in-process for inclusion in a feature-length documentary about the couple called "FollowLeadLOVE". Thomas will also create a free video excerpt from the footage he's shooting which will be available for viewing on Bridge Street's YouTube channel shortly following the completion the Catskill residency. Stay tuned! To learn more about "FollowLeadLOVE", go to https://www.transenddaens.com/projects.
May 10 – 16
Rashaun Mitchell + Silas Riener
Video excerpt premiere Friday, May 21 at 7:00pm EDT
CLICK HERE TO VIEW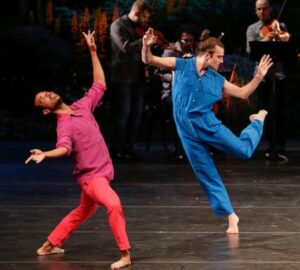 Since 2010 Rashaun Mitchell + Silas Riener have created dance in response to complex and active spatial environments, often merging elements of fantasy, absurdity, and quiet contemplation into challenging multifaceted performance. After working together in the Merce Cunningham Dance Company, Mitchell and Riener developed a keen interest in the way abstraction and representation coincide in the body. Their collaborative work takes many forms, from site-specific installations, improvisational dances, and traditional proscenium pieces to highly crafted and intimate, immersive experiences. Historical influences and aesthetic forms collapse into a visually charged hybrid physical language. Together they have been part of Lower Manhattan Cultural Council's Extended Life Dance Development program, the New York City Center Choreographic Fellowship, and have been artists in residence at EMPAC, Mount Tremper Arts, Wellesley College, Jacob's Pillow, and Pieter. Their work has been presented at MOMA PS1 as part of Greater NY, The Chocolate Factory, New York Live Arts, Danspace Project, REDCAT, ICA Boston and Summer Stages Dance, the Walker Art Center, the Museum of Contemporary Art Chicago, On the Boards, and the Brooklyn Academy of Music. http://www.rashaunsilasdance.com/
May 24 – June 2
Ephrat Asherie Dance
A Guggenheim Works & Process Residency
Video excerpt premiere on YouTube June 1 @ 7:00pm
CLICK HERE TO VIEW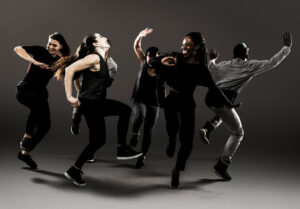 Ephrat Asherie Dance (EAD) is a dance company rooted in African American and Latinx street and social dances. Dedicated to revealing the inherent complexities of these forms, EAD explores the expansive narrative qualities of various street and club styles including breaking, hip hop, house and vogue, as a means to tell stories, develop innovative imagery, and find new modes of expression. EAD's first evening-length work, A Single Ride, earned two Bessie nominations in 2013 for Outstanding Emerging Choreographer and Outstanding Sound Design by Marty Beller. The company has presented work at The Apollo Theater, Celebrity Series, Columbia College, Dixon Place, FiraTarrega, Guggenheim Works & Process, Jacob's Pillow Dance Festival, La MaMa, River to River Festival, Mass MoCA, New York Live Arts, Summerstage and The Yard, among others. www.ephratasheriedance.com/
June 14 – July 2
Shamel Pitts
TRIBE
Video excerpt premiere TBA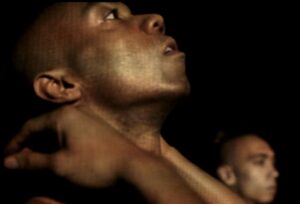 TRIBE is a Brooklyn/NYC based arts collective dedicated to creating, developing and sharing original multidisciplinary art projects. With artistic direction by choreographer and artist Shamel Pitts, TRIBE holds the afro-futuristic movement as its biggest inspiration.Understanding that performance art and live art are practices of human connection, TRIBE acts nationally and internationally by developing art exchanges and performances in collaboration with institutions and artists, with a focus on the African diaspora. TRIBE was created with the dream to soon become a synonym of artistic experiences that connects gifted individuals in our present era to re-imagine and cultivate an alternative new future. Our future is now! itsatribe.org/