When:
03/18/2019 @ 7:30 pm – 9:00 pm
2019-03-18T19:30:00-04:00
2019-03-18T21:00:00-04:00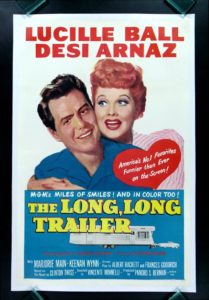 Lucille Ball and Desi Arnaz live slaphappily ever after as newlyweds honeymooning in The Long, Long Trailer, breezily directed by Vincente Minelli. They qucikly find that the interior of of a moving trailer is ideal for tossing a Caesar salad – and everything else. That backing up their 40-foot three-tone home is only a little more diffitult that threading a needle wearing boxing gloves. And that trailer-park folks are neighborly sorts who turn the lovebirds' rig into the wrong, wrong trailer by crashing the wedding night.