PLEASE NOTE THAT THIS EVENT HAS BEEN POSTPONED. CHECK BACK TO FIND OUT THE RESCHEDULED DATE.
The Indefatigable Flo Hayle Returns to Bridge Street Theatre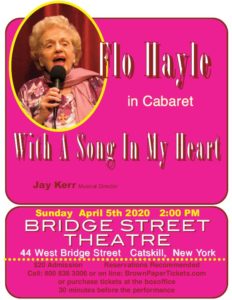 On Sunday April 5th at 2:00 in the afternoon, a Catskill institution returns to the Bridge Street Theatre stage for her fifth annual "farewell" performance! Flo Hayle's previous cabaret shows for BST – "I Feel Some Songs Comin' On", "No Biz Like Show Biz", "Encores!", and "Life Happens" – have brought down the house with their combination of old songs, new songs, and stories from her theatrical past. Come join Flo this year as she celebrates the approach of her 91st Birthday an all-new show called "With A Song in My Heart", produced by Jan M. Grice and accompanied (as always) by the supremely gifted Jay Kerr.
In this intimate afternoon soiree, the inimitable Ms. Hayle not only puts her own unique stamp on songs both old and new (including tributes to old-time stars Fanny Brice and Jane Frohman, and to US Service Members), but once again intersperses her musical performances with an array of personal anecdotes from her storied show biz past. And what tales she has to tell! An accomplished and much-loved cabaret singer, Flo has known (and performed alongside) many show business greats including Elaine Stritch, Liza Minnelli, and Hildegarde. If there's a broken heart for every light on Broadway, Flo was probably on hand either to offer a shoulder or cry her eyes out herself.
All seats for "With A Song in My Heart" are $20. Flo is much beloved, and a capacity crowd is expected to pack BST's Charles & Priscilla Patterson Mainstage to the rafters, so advance reservations are strongly recommended. Any remaining seats (none too likely) will go on sale at the door 30-minutes before showtime.
Don't miss the chance to experience this show biz legend "one more time"!