PLEASE NOTE. This event has been canceled. We are hoping to present it later in the year. Check back here for details.
HYDE PARK CHAMBER ENSEMBLE. A magnificent local ensemble in a Saturday afternoon recital of chamber classics.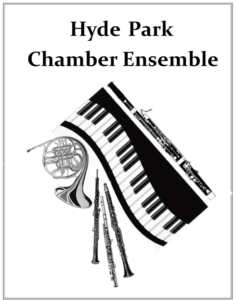 Individually, the members of the Hyde Park Chamber Ensemble have been performing throughout the Hudson Valley region for many years, as soloists, in chamber music ensembles, and with orchestras including the Hudson Valley Philharmonic, the Newburgh Symphony, the Woodstock Chamber Orchestra, and the Hudson Valley Opera Company. In our second year as a quintet, we're offering an interesting program that includes a number of fun and lively twentieth-century compositions.
Program
Three Shanties by Malcolm Arnold (1921-2006)
Allegro con Spirito and Allegro Grazioso from Quintet by Gyorgy Ligeti (1923-2006)
Coventry Carol  Arr: Craig Fryer
Quintet Opus 99 No. 2   by Anton Reicha (1770-1863)
Three Short Pieces by Jacques Ibert (1890-1962)
Hyde Park Chamber Ensemble Bios
Lory Frankel studied oboe for several years with Whitney Tustin, for a year at the Eastman School of Music, and for the past seven years with Allison Rubin, principal oboe of the Woodstock Chamber Orchestra. For eight years, she performed at the Beattie-Powers Place, Bridge Street Theater, and Athens Riverfront Park, among other venues, with the Catskill Chamber Orchestra and its offshoot, the Hearts Content Ensemble. She is currently a member of the Bard College Community Orchestra.
Craig Fryer is currently a part time instrumental teacher in the Millbrook Central School District.  Prior to that, he was a junior/senior high school band director for 32 years. Craig graduated with a Bachelor of Music Ed. from West Chester University where he majored in French Horn and Voice.  He received his Master's of Music degree in Music Composition from the University of Binghamton. He currently performs as a tenor with Kairos: A Consort of Singers; he has also composed and arranged many works for the group.  As a hornist, he performed for years with the Columbia Wind Quintet and the Windsor Brass Quintet.  Craig is thrilled to be performing with the HPCE.
John Knight is the bassoonist with the HPCE. He earned his BS in Music from Hofstra University and his MA from Western CT State. Mr. Knight has served as Principal Bassoon with the Five Towns Symphony, the Y Philharmonic of Brooklyn and the Hudson Valley Opera Company.  In addition, he was a member of the Columbia Woodwind Quintet for 13 years. Mr. Knight has also worked as substitute bassoonist with the Hudson Valley Philharmonic, the Woodstock Chamber Orchestra, and the Northern Dutchess Symphony.  Most recently Mr. Knight has devoted himself to the Contrabassoon, performing with the Newburgh Symphony and the New York Wind Symphony.
Linda Rapp has been a solo and chamber musician in the Poughkeepsie area for 35 years, performing as flutist and piccoloist throughout the region.    Her formal musical training was at the Carnegie-Mellon University conservatory, and has studied with Ethan Stang, Bonita Boyd, Dent Williamson, John Solum, and Sue Ann Kahn.  She also is currently principal flutist and piccoloist with the Southern Dutchess Concert Band, and provides substitute organist supply to area churches.   In addition to her musical interests, she holds BS and MS degrees in Ceramic Engineering and Science from Alfred University and Case Western University, and is a senior development engineer with IBM.
Russell Urban Mead has previously played clarinet with the Hudson Valley Opera, Hudson Valley Circus Band, and the Woodstock Chamber Orchestra, and currently with the Vassar College Community Wind Ensemble and the Bard College Community Orchestra.  He studied under John Flaver, Rome Symphony, J. Lawrie Bloom, Chicago Symphony and taught private clarinet lessons for many years.  This is his fourth appearance on a Lunch and Listen Concert Program at F.E.L.C.  Russell is a professional hydrogeologist, principal, and Vice President at The Chazen Companies engineering and environmental consulting firm, where he manages the company's environmental services department and conducts groundwater supply, remediation, and water resource assignments for private and public clients.