When:
04/10/2021 @ 7:00 pm
2021-04-10T19:00:00-04:00
2021-04-10T19:15:00-04:00
Trapped by Passion Fruit Dance Company/Tatiana Desardouin
March 29 – April 11
Digital Performance Excerpt Showing
YouTube Premiere on Sat, April 10 @ 7:00pm

For Press Photos CLICK HERE.
For a great article on Passion Fruit from the Times Union CLICK HERE.
For a shout out from the New Yorker on their appearance at the Guggenheim on April 11 CLICK HERE.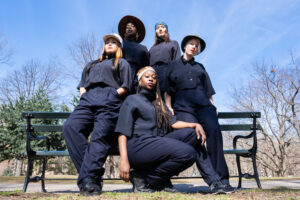 In her dance pieces and educational practices, choreographer Tatiana Desardouin uses street/club dance and culture as an invitation to unfold, release, and remove mental blocks, celebrating black culture and its contribution to society. In Trapped stories sourced from a mosaic of women, willing to reveal their pain and paths to joy, ground this new work inspired by and dedicated to women first, but also to inspire any other genders. With the intention to heal, Desardouin will perform with LaTasha Barnes, Mai Lê Hô, Nubian Nene, Lauriane Ogay, and Gyeun Jeong AKA Soo with music production by Saadiq Bolden aka Saadiq The Last Musician and videography and music editing by Loreto "Still1" Jamlig.
Following their Works & Process bubble residency at Bridge Street Theatre, Passion Fruit Dance Company will perform at Lincoln Center Restart Stage and Works & Process at the Guggenheim.
Works & Process bubble residencies and Works & Process reopening performances are made possible through the generosity of The Andrew W. Mellon Foundation, the Doris Duke Charitable Foundation, and Stephen Kroll Reidy.
Passion Fruit Dance Company is a New York based street/club dance theater and educational company, founded, directed and choreographed by Tatiana Desardouin with core members Mai Lê Hô and Lauriane Ogay to promote the authenticity of street and clubbing dance styles, therefore celebrating black culture and their contribution to the society, highlighting and exploring different social issues throughout their Desardouin pieces. Using the prism of Hip-Hop and House cultures and through different socially engaged art projects, the company provides tools for communities and generations in their healing process, or simply to those in search of a release outlet and confidence building environment, by using "Passion Fruit Seeds"- a teaching program, designed for that purpose and a multisensory experience within a cultural party called "Les 5 Sens".
The company has performed at The Apollo Theater, Summerstage, Jacob's Pillow, the New Victory Theater, BAAD!Theater, Harlem Stage, selected by Pepatián for "Dance Your Future: Artist & mentor collaboration residency", LOHH, Joe's Pub, 92Y, Dance Place and abroad ( Canada ( MTL) at the M.A.I. for the 100LUX festival and Switzerland (Neuchâtel) at the Outside Festival) etc. They also co-choreographed and are featured in two commercials for Credo Beauty. Tatiana was selected as one of Dance Magazine's 2020 "25 to Watch" for her work with Passion Fruit.