When:
07/31/2021 @ 8:00 pm – 9:30 pm
2021-07-31T20:00:00-04:00
2021-07-31T21:30:00-04:00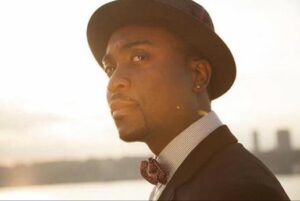 Charles Turner in Concert at Catskill's Bridge Street Theatre July 31

Wrapping up a recent Artist Residency at the Catwalk Institute with pianist/composer Sean Mason and playwright Marcus Scott, Brooklyn-based vocalist and composer Charles Turner will present a one-night only excerpts from the project they've all been working on together. This will be the very first airing of material from "Melanin; or, The In-Crowd", an exciting new musical theatre piece in its nascent stages.
Over the course of a weekend, a cadre of upscale globetrotting busybody professionals gather for one last hurrah in and around NYC's lounge scene. Celebrating the newfound success of one of their own who received a lucrative job offer overseas, the coterie initiates an unforgettable weekend, touring various nightclubs and lounges for an endless cavalcade of booze, hookups and cheap thrills.
Inspired by the golden age Hollywood MGM musical classics and filtered through modern lens, this splashy musical encompasses a variety of musical styles such as blues, jazz, swing, big band, jazz fusion, progressive soul, psychedelic soul, cinematic soul, Sophisti-pop, quiet storm, urban, doo-wop, hip-hop soul, neo soul, alternative R&B, funk, dancehall, reggae, highlife and afro pop. "Melanin; or, The In-Crowd" is postmodern coming of age rom-com that explores themes such millennials and the youth of America, materialism, consumerism, capitalism and commodification, classism, colorism, selfishness, respectability politics, depersonalization and dating in the digital age, sexism, sexual freedom and modern love through the prism of black bourgeois culture.