When:
01/16/2021 @ 7:00 pm – 01/17/2021 @ 11:45 pm
2021-01-16T19:00:00-05:00
2021-01-17T23:45:00-05:00
BABYLIFT by Anh Vo
Digital Performance Excerpt
Premiered on YouTube on Saturday, January 16 @ 7pm
Available to view through Sunday, January 17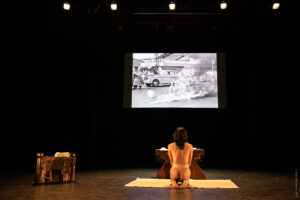 A fragmented and collaged multi-media solo work, Anh Vo's BABYLIFT combines the terror and pleasure of erotic hauntings. Named after a 1975 mass evacuation of children from South Vietnam to the U.S., resulting in a plane crash that killed 78 of those children, BABYLIFT attempts to conjure the ghosts of the Vietnam War and confronts the afterlives of the Vietnam War (a.k.a. the Resistance War Against Imperialist America). Striving to queer a linear masculinist history, Vo weaves materials from this historical archive together with cultural memories of the Civil Rights Movement, USAmerican freedom fantasies of the 1960s, contemporary pop culture, and current leftist activism. These layers of narrative create an uncanny, abstract, yet emotionally-charged space that serves as both a memorial for the unmourned, unremembered and a reckoning for the witnesses of this ghostly presence.