When:
02/11/2021 @ 7:00 pm – 02/14/2021 @ 11:45 pm
2021-02-11T19:00:00-05:00
2021-02-14T23:45:00-05:00
SWITCH by the LayeRhythm Experiment
with Mai Lê Hô, Ivan Cofield, Tatiana Desardouin
Video by Scott Baker
Opening video by Kash Gains
Soundtrack by Jharis Yokley (drums), Lex Sadler (bass), Simone Acosta (keys), Osyris Antham (emcee), with Host Malik Work
Digital Performance Excerpt
YouTube Premiere Thurs, Feb 11 @ 7pm
Available for viewing through Sun, Feb 14.

"An occasional brew of partying and performing that unfolds as a series of interactive sessions in which suggestions from the crowd beget songs and steps. […] imagine a musicians' jam session where the band is compelled to keep the dancers' pace instead of the other way around." – The New York Times
Created in 2015 in NYC by French-Vietnamese dance artist Mai Lê Hô, LayeRhythm is a cutting-edge jam session that creatively layers live musicians and vocalists with freestyle dancers. Now in its 5th year, the project has taken its club roots to the stage with performances at Jacob's Pillow and 92Y. The LayeRhythm Experiment ( LE) company features prominent dancers who have won world-class competitions in breaking, hip-hop, popping, and house dance. They are accompanied by musicians and vocalists at the forefront of NYC's funk, hip hop, jazz, and soul scenes. The LE usually generates approximately 90% new content each performance. The audience is muse. At each show, audience ideas are collected by LE's MCs. Performers instantaneously draw from personal experiences and artistic knowledge to turn those ideas into movements, sounds and improvised lyrics. Commonly in western dance, artists rest on recorded or rehearsed music to create movement. With the LE, musicians, dancers and the MC stretch artistic boundaries and "take turns" conducting the rest of the ensemble. This call and response culture is intrinsic to many generations and genres of African-American and Latin based street and social dance forms.
During the Bridge Street Theater residency, SWITCH will be developed, exploring further the leader/follower dynamics between music and dance. Dancers will research alternative leadership models by reversing roles not only while improvising on stage, but in the creative writing process as well.
The residency will culminate in a virtual performance excerpt showing of section 1 (out of 5) of this new evening-length show. The remaining sections are mostly freestyle based and ready to be performed/transformed with each new audience. Dancers will explore the meaning of "routine" and of "switching roles" on personal, societal, artistic, mind-body levels.
Mai Lê Hô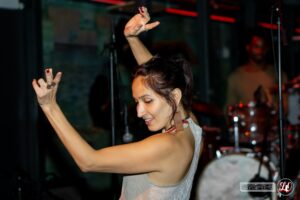 Mai Lê Hô aka Mai Lê Grooves is a French-Vietnamese dance performer/choreographer/educator, dj and curator who relocated to NYC in 2009. Mai Lê has been a lead dancer in the pioneering street dance theater company Rennie Harris PureMovement since 2013, and in the emerging Passion Fruit dance company since 2016. Mai Lê also toured Europe as a co-choreographer and dancer with seminal Detroit house music producer Theo Parrish and his live band, in festivals/venues such as Worldwide Festival (Sete, FR), London's Barbican, Barcelona's Sala Apolo. In 2015 Mai Lê founded LayeRhythm, a monthly jam session that brings live musicians to collaborate with street/club dancers (flexN, litefeet, house dance, Detroit jit, locking…). The New York Times described LayeRhythm… "Imagine an improv comedy show where dancing, not laughs, is the currency. Then imagine a musicians' jam session where the band is compelled to keep the dancers' pace instead of the other way around." Since 2019, the project has been taking its club roots to the stage with the LayeRhythm Experiment company, performing at 92Y and Jacob's Pillow and offering online educational programs for emcees, musicians and dancers.
From 2017 to 2019, Mai Lê was the Program Director of It's Showtime NYC!, a program that celebrates NYC street culture and provides performance and professional development opportunities to street and subway dancers. Mai Lê teaches weekly in NYC at Gibney and EXPG NYC, and has taught dance workshops in Brazil, Vietnam, Japan, DRC, Canada, France, the Netherlands, and throughout the US.  IG: @MaiLeGrooves / @LayeRhythm.
www.LayeRhythm.org
Ivan Cofield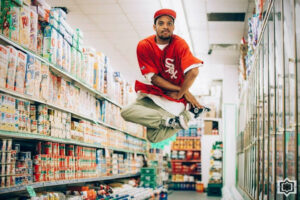 Ivan Cofield aka Heat Rock is an African American visual and dance artist born and raised in Georgia, where he began popping at 12 and b-boying at 16. He moved to Boston at 19 and was recruited and trained under the supervision of The Floorlords Crew. In 2011 Heat Rock co-founded the dance crew Del Fuego Wolfpack. In 2012 he moved to NYC to further his visual art and dance career. In 2016, he was featured as a dancer and actor in the Netflix series The Get Down. He now resides in Brooklyn, NY, and travels the world to compete, judge battles and teach. He's the winner of IBE Top Rock World Championship (2020), Octagon Breaking World finals (NYC, 2016), Juste Debout USA (2013) in popping, World of Dance (NYC, 2012) in footwork, King Dance (Japan, 2016) in all-styles, Under Pressure (Canada, 2015) in breaking, and was a judge for Destructive Steps (Australia, 2019), Au Delà des Préjugés (Switzerland, 2017), King Dance (Japan, 2016), Who's Got The Props (Detroit, 2018), Virginia Tech College's Give Me a Break (2018).
www.ivancofield.com | IG: @heatrockone
Tatiana Desardouin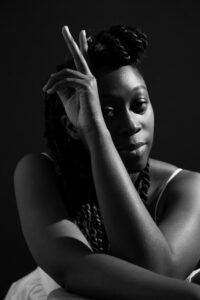 Of Haitian origin, born and raised in Switzerland, Tatiana Desardouin is a professional dancer, teacher, choreographer and an adult educator. She is the director and choreographer of Passion Fruit Dance Company which she founded in 2016. The company has performed at Jacob's Pillow, the Apollo Theater, the New Victory Theater, Harlem Stage, Dance Place DC, Joe's Pub, Alvin Ailey (LOHH Festival) and 92Y. Tatiana was selected as one of Dance Magazine's 2020 "25 to Watch". She is a core member of Rennie Harris Puremovement, the LayeRhythm Experiment, Black Dancing Bodies project and Nefer Global Movement; she also had the opportunity to perform at the Madison Square Garden and the Wells Fargo Center for the rock band Arcade Fire; in "Electrogynous" by Sabela Grimes; in "Where Love lies follow" a play written by Nichi Douglas (NYC).
Tatiana has won several competitions and regularly travels to give workshops and judge competitions worldwide. Some of her highlights in the battle scene were: Winner "Juste Debout Marseille 2010" Housedance Category and Semi- Finalist Hip-Hop Category (France/Marseille); Winner "Clash sph" Battle, All Style Category (Copenhaguen/Denmark/2014); Finalist, Hip-Hop category, at the "Groove n' Move" battle (Geneva/Switzerland/2015) ; Qualified in House & Hip-Hop, "Juste Debout Paris" 8th finals, HIp-Hop category and 16th finals, House category (Paris/France/2015); Finalist," KD6" New York preselections (New York/USA/2016);  Guest and winner for "Just for Laughs" all styles battle (Montreal/Canada/2016).
She was Judge for: "Ladies Of Hip-Hop" battle (New York/USA/2014 & 2015); "Rep Your Style" (New York/2016); "Funky Fresh World Wide" battle (Modena/Italy/2017); "Wake Up vol.9" (Japan/2017); "Sweet 16 Championship" (Sacramento/2017 & 2018); "Tap Water Jam MTL" (Canada/Montreal/2018); "Diamondz Anniversary" Battle (Canada/Vancouver/2019); "Universal Playground" (Bratislava/2018); "Hip-Hop Weekend 2019" (Sweden/Malmo). Her main styles are hip hop and house dance.  IG: @passionfruitdanceco / IG: @tatianadesardouin
Scott Baker – Video
Born in New York and raised in New Jersey, Scott Baker is a freelance Director of Photography and Editor with a decade of experience in television production. Scott has worked with a wide variety of clients in TV (News12), fashion (NYU), theater (The LayeRhythm Experiment) among others, allowing his versatility and creative eye to blossom over the years.  Through his passion for dance, Scott has built a strong body of work collaborating with some of the country's most prominent street/club dancers including J-La Rock, Bboy Heat Rock, Tatiana Desardouin and more.
Opening Video
Event: LayeRhythm Jam
Year: 2019
Location: Nublu NYC
Concept: Rhythm Condukta – where dancers conduct musicians through movement (freestyle/improvised).
Dancers: Tatiana Desardouin, Ivan Cofield aka Heat Rock.
Band: Jharis Yokley (drums), Lex Sadler (bass), Simone Acosta (keys), Jazmine Yvonne (vocals), Justin JLlyfe Thomas (vocals).
SWITCH Soundtrack
Live recording of a 2020 LayeRhythm Experiment outdoor performance.
Concept: Dance Upon A Rhyme – where an emcee and a dancer are paired up to freestyle together based on ideas from the audience.
Emcee: Osyris Antham
Dancer: Ivan Cofield aka Heat Rock
Band: Jharis Yokley (drums), Lex Sadler (bass), Simone Acosta (keys)
Host: Malik Work
Jharis Yokley grew up in St. Louis, MS, where he started playing drums at the age of three. He started taking music seriously in high school and attended Berklee College of Music, graduating in 2014. Since graduating from Berklee, Jharis has performed with Danilo Perez, Dj Premier, Gabriel Garzon-Montano, My Brightest Diamond and many more. In 2016 Jharis moved to New York City to further his music career. IG: @jharisyokley
Lex Sadler is an established go-to bass player, synth bass player, programmer and musical director. Concert and TV appearances include Rationale and Ellie Goulding on The Late Show; VMAs with Nathan Sykes of The Wanted; and with Michael Bolton, Talib Kweli, Cory Henry, Ella Henderson, Peter Cincotti, Jordan Bratton and more. In New York, Lex is the house bass player for the city's most prominent jam sessions: The Jelly, LayeRhythm, and Producer Mondays at NuBlu. He is band leader of Rhythm & Stealth with a full-length album on P-Vine Records (Japan) and Ropeadope Records (USA). IG: @lexsadler
Simone Acosta is a NY-born pianist and curator from the Bronx. She started piano lessons as a young child, and has since developed her deep love for connecting community and art. Simone has a current project with her band OJ in The Yams, and has also developed a movement, named That House Party THO, bringing top-tiered artists and appreciators together – striving to culturally preserve what makes NY the finest artistic melting pot it is known to be. IG: @simsonkeys
Nasiyr Abdullah aka Osyris Antham, a Brooklyn-bred rapper from Flatbush, started his artist life as a poet and slowly grew into the hip hop world. Since jumping into the NY underground scene at his first official rap contest in August 2013, he has won 40+ competitions. These include Freestyle Mondays (17-time champion) + 3-time US champ (2017-19) and back-to-back End of the Weak World champion (2017-18). Alpha Phi Omega, Nicholas Brooklyn and End of The Weak have been the most important environments to his growth as a rapper. IG:@maroonwaters
Malik Work is a NYC based, born and bred actor-writer-musician. He is a founding member of The Real Live Show, a groundbreaking jazz/hip hop conglomerate. He's written and performed a hip hop musical called Verses @ Work, a one-man show that garnered him a nomination for Best Solo Performance at the 2017 AUDELCO Awards. The film version of Verses.. was recently featured in the Hip Hop Film Festival, the Harlem International Film Festival, and won the International Spotlight Award at the Los Angeles Brazilian Film Festival. As an actor he's done off-Broadway, network television, and the big screen. IG: @malikwork